SEOUL, South Korea - Leaders of 20 major economies on Friday refused to endorse a US push to get China to let its currency rise, keeping alive a dispute that has raised the specter of a global trade war.
At the end of their two-day summit, the leaders of the Group of 20 rich and developing economies -- including US President Barack Obama and Chinese President Hu Jintao -- issued a statement that only said they agreed to refrain from "competitive devaluation" of currencies.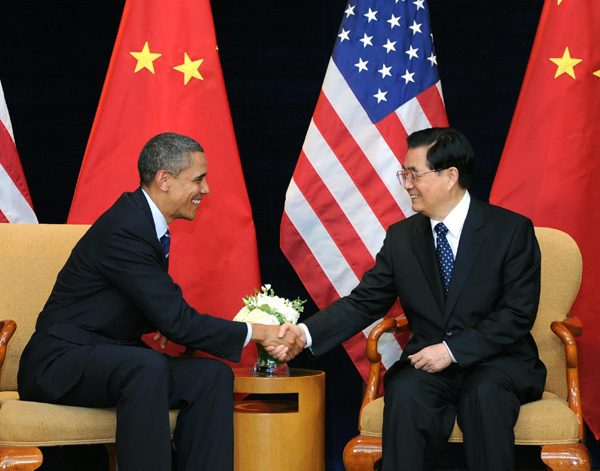 Chinese President Hu Jintao (R) meets US President Barack Obama as part of the G20 Summit in Seoul, Nov 11, 2010. [Photo/Xinhua]
Such a statement is of little consequence since countries usually only devalue their currencies in extreme situations like a severe financial crisis. Using a slightly different wording favored by the US -- "competitive undervaluation" -- would have shown the G20 taking a stronger stance on China's currency policy.
Special coverage:
G20 Summit in Seoul
Related readings:


 President Hu leaves for Japan after G20 summit


 G20 Summit promotes innovative finance models for SMEs


 US panelists pessimistic about G20 fruit


 G20 leaders convene in Seoul as summit kicks off
The crux of the dispute is Washington's allegations that Beijing is artificially keeping its currency, the yuan, weak to gain a trade advantage. But the US position has been undermined by its own recent policy of printing money to boost a sluggish economy, which is weakening the dollar.
Many countries are irate over the Federal Reserve's plans to pump $600 billion into the sluggish American economy. They see that move as a reckless and selfish scheme to flood markets with dollars, driving down the value of the US currency and giving American exporters an advantage.
Some critics warn that US interest rates kept too low for too long could inflate new bubbles in the prices of commodities, stocks and other assets. Developing countries like Thailand and Indonesia fear that falling yields on US government bonds will send money flooding their way in search of higher returns. Such emerging markets could be left vulnerable to a crash if investors later decide to pull out and move their money elsewhere.
Still, the leaders vowed to fight protectionism.
"Recognizing the importance of free trade and investment for global recovery, we are committed to keeping markets open and liberalizing trade and investment," the joint statement said.
The G20 leaders also said they will pursue policies to reduce the gaps between nations running large trade surpluses and those running deficits.
The G20 Seoul Summit has confirmed the 6-percent shift of quota shares to emerging economies in the International Monetary Fund, according to the joint communique.
"Today, we welcomed the ambitious achievements by the Finance Ministers and Central Bank Governors at the Gyeongju Meeting and subsequent decision by the IMF, on a comprehensive package of IMF quota and governance reforms," said the communique.
The reform are an important step toward a more legitimate, credible and effective IMF, by ensuring that quotas and Executive Board composition are more reflective of new global economic realities, it said.
The IMF reform, it said, would continue the dynamic process aimed at enhancing the voice and representing of emerging market and developing countries, including the poorest, through a review of the quota formula by January 2013.
And the next general review of quotas would be completed by January 2014, it said.