Central Bank of Eritrea.
Since it was established in 1993, shortly after Eritrea's independence, the Bank of Eritrea has played a pivotal role in the country's development, helping to foster economic growth and regulating and building a sound financial environment.
While striving to maintain a healthy and sustainable balance of payments and strong exchange rate policy, the bank also works to advance and protect the interests of consumers and businesses.
In recent years, Eritrea has succeeded in maximizing its competitive advantages for growth and development, and now offers a host of opportunities in mining, tourism, agriculture and fisheries. It has also attracted foreign direct investment on an unprecedented scale.
The promotion of Eritrea's investment-friendly climate is one of the bank's key objectives in the coming years, according to Kibreab Weldemariam, acting governor of the Bank of Eritrea.
"To make 'further investment' possible, the Bank of Eritrea will make the utmost efforts to strengthen its regulatory capacity, modernize its payment system, and improve its human and technological capacity," he said. "We encourage foreign investors, whether from China or any other foreign country to come to Eritrea and establish banks or financial institutions in the country."
Among the many opportunities and benefits for investors is the easy access to the facilities Eritrean banks provide. "Investors are allowed to open foreign currency accounts, and operate them freely, without any restrictions or limitations," Weldemariam pointed out. "They are also entitled to full repatriation of the profits they make and to retain their export revenues and proceeds in their foreign currency accounts."
Given the political and social upheavals in neighboring countries Eritrea offers stability and security for investors. They also benefit from excellent road and sea links, and Eritrea's strategic location on the Red Sea trading route - one of the busiest trading routes in the world.
The country's free zones, at Massawa and Assab, provide excellent facilities for Chinese trade, shipping and logistics companies including the use of warehouses, which can be utilized as distribution centers for Middle Eastern and African countries. Investors can also use the free zones to export items manufactured within the country to other nations, and to establish shipping lines in Massawa or Assab to transport goods throughout Africa by land or by sea.
Almost 20,000 vessels a year pass Eritrea loaded with some 700 million tons of cargo - more than 9 percent of the estimated 7.7 billion tons carried by global shipping. The Massawa free trade zone encompasses about 5,000 hectares, including the port and airport. Authorities have invested tens of millions of dollars in preparing the infrastructure.
A strong trading bond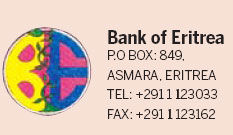 Chinese and Eritrean trading relations go back as far as its independence, withChina showing the will to partner and establish a friendly relationship with Eritrea. As Weldemariam explained: "China understands Eritrea's needs and development policies, and because of that, we have developed a close relationship with them.
"Respect for other nations and non-interference in the internal affairs of other countries is one of the important principles on which China bases its foreign policy. Eritrea believes in that too."
In the last few years, China has made significant contributions to Eritrea's development, especially in infrastructure, such as hospitals, roads, schools and other buildings. China also supports Eritrea in developing its industrial, agricultural and mining sectors. Trade between the two countries continues to grow.
To conclude, Weldemariam said: "I would say to Chinese traders and businessmen that Eritrea is a virgin country and that every aspect, be it the security, the friendliness and openness of our people, or the climate, is condusive to foreign investment.
"There is a great opportunity for Chinese investors to participate in developing Eritrea's global reach in tourism, fisheries, infrastructure, and agriculture."
China Daily
(China Daily 10/15/2010 page15)