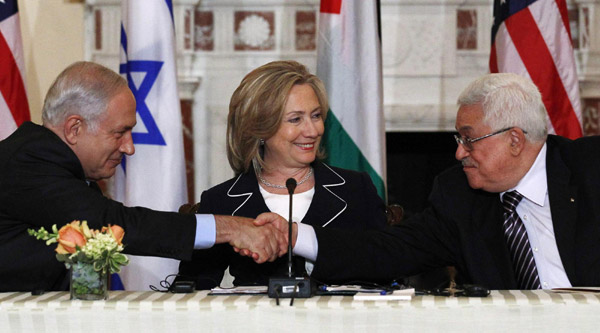 Israeli Prime Minister Benjamin Netanyahu (L) shakes hands with Palestinian President Mahmoud Abbas (R) as US Secretary of State Hillary Clinton looks on at the State Department in Washington September 2, 2010. [Agencies]
WASHINGTON - The latest round of Middle East peace talks kicked off Thursday, with US Secretary of State Hillary Clinton expressing optimism that the decades-long conflict between Israelis and Palestinians may be resolved in a year.
But some experts say that deadline is too ambitious. Previous talks over several decades and during many US administrations have failed to bring a lasting peace, and many say this time is not different.
Related readings:


 Israel, Palestinians to resume peace talks


 Clinton invites Israel, Palestinians to direct talks


 Israel preps underground shelters against bio-chemical war


 No agreement on direct Israel-Palestinian talks
Flanked by the Israeli and Palestinian leaders, Clinton Thursday addressed those who harbored doubts about the talks.
"To those who criticize this process, who stand on the sidelines and say 'no,' I ask you to join us in this effort," she said from the State Department in Washington.
"I fervently believe that the two men sitting on either side of me, that you are the leaders that can make this long cherished dream a reality," she added.
Still, many have expressed doubt that such a goal can come to fruition.
"It is difficult to imagine that there is going to be an agreement in a year, or even in two or three years," said Leon T. Hadar, a research fellow in foreign policy studies at the Cato Institute.
The last major summit in 2000 -- when the United States had more global power and the gap between Israelis and Palestinians was narrower -- was unsuccessful, and there is little to indicate that this time around will be different, he said.
"You have to believe in miracles to think that anything is going to happen now," he said, but added negotiations aren't an exact science and that time will tell.
"At this point the best the Obama administration can do is to prevent an explosion in the Israeli-Palestinian arena," he said.
Indeed, in a terror attack Tuesday, a gunman opened fire on a vehicle driving through the West Bank, killing the four Israelis inside, one of whom was a pregnant woman. Hamas claimed responsibility for the slaying.
Israeli Prime Minister Benjamin Netanyahu on Thursday commended Palestinian President Mahmoud Abbas for condemning the attacks, but called on him to find the killers.
Abbas responded his side is doing everything in its power to track them down.
For Netanyahu, the main issue at Thursday's meeting was Israeli security and safety from future terror attacks.
"Achieving security is a must. Security is the foundation of peace. Without it peace will unravel. With it peace can be stable and enduring,"  he said, adding he sees in Abbas a partner for peace.
For the Palestinians, the settlement issue is one of major importance, and Abbas last month threatened to pull out of the negotiations unless Netanyahu agreed to extend a moratorium on the building of new settlements, which expires at the end of September.
Still, Abbas on Thursday stated his side's commitment to security, and said the negotiations should within a year bring peace between the two sides.
"What is encouraging and what has given us confidence is that the road is clear," he said.
However, analysts believe a number of hurdles stand in the way. The Palestinian leadership is weakened by a rift between Fatah and Hamas, and Abbas has no other options but to accept what Obama is presenting, some analysts argued.
On the Israeli side, critics say Netanyahu and the governing coalition have shown little interest in a negotiated solution with the Palestinians.
Still, violence in the region is considerably lower than the time of the Second Intifada of 2001-2003 by Palestinians, and both sides are exhausted by the conflict, some analysts said.
"I don't think it's too short of a time frame," said Khaled Elgindy, former advisor to the Palestinian leadership and visiting fellow at the Brookings Institution.
"There's been so much negotiated already and both sides understand each others' positions on a whole range of issues that you don't have to re-invent the wheel."
But that isn't to say a solution is in the bag, as the process could be tricky, he said.
"It's really up to the United States as the manager of this process to keep to this timeline. And they have the ability to do that. They are the ones who are creating the format and incentives for the parties. In the past, the process wasn't managed properly, " he said.
"If you go back 10 years to Camp David in 2000, they put people in a room and expected them to hammer out a deal in two weeks and somehow people believed they could do that then. Now we have a full year and people don't think we can do it,"  he said.
Obama's administration has identified resolving this conflict as a vital national interest, although Obama has yet to put his own imprint on the process, Elgindy said.
"George W. Bush came in and said 'I don't want to deal with this issue right away.' Obama came in and said 'I want to deal with this issue right away,'" he said.
A holistic approach is needed to address all the issues surrounding the peace process, such as internal divisions between the Palestinians, he said, but added that hasn't happened yet.
A comprehensive approach is required to deal with not just the Abbas-Netanyahu track, but also the Fatah-Hamas track, and also the Gaza-Israel track, Elgindy said. "Those can no longer be treated as though they are outside of this process," he added.
"That will be the fatal mistake unless it's corrected. It's not too late," he said.