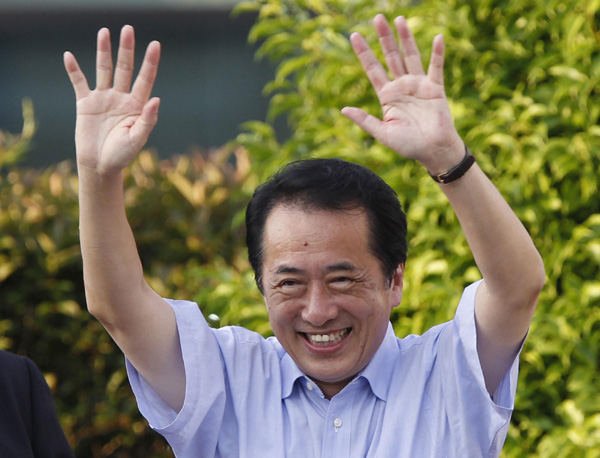 Japan's Prime Minister Naoto Kan waves to voters on the last day of a stumping tour before Sunday's upper house election in Kawasaki, south of Tokyo, July 10, 2010. [Agencies] 
TOKYO - Voting for the House of Councilors election began early Sunday morning in Japan.
Some 50,000 polling stations opened at 07:00 a.m. local time. About 100 million Japanese citizens aged 20 or older are eligible to cast ballots in Sunday's election.
Related readings:


 Japan growth strategy may hurt, not boost, economy


 Japan PM says suicides point to social ills

 Japan parties pin hopes on stars


 Japan PM in danger of missing election target
The upper house election is the first national poll since the Democratic Party of Japan (DPJ) rose to power last September. A total of 437 candidates are contesting for the 121 seats in this year's election. The ruling coalition has been campaigning to secure at least 56 seats to retain a majority in the upper house.
During the campaign which started in late June, the ruling and opposition parties had engaged in hot debates over issues including a possible consumption tax hike and economic growth strategies.
All polling stations will close by 08:00 p.m. local time and vote counting will begin immediately after that.  
The upper house has 242 seats, of whom 96 are elected by proportional representation from a national constituency and 146 are elected from Japan's 47 prefectures. Councillors' term of office is six years.
The upper house holds elections every three years for, alternately, only half of the total 242 seats with the other half remain uncontested until the next election. The upper house is not subject to dissolution, meaning that elected officials are basically guaranteed a full term of six years.