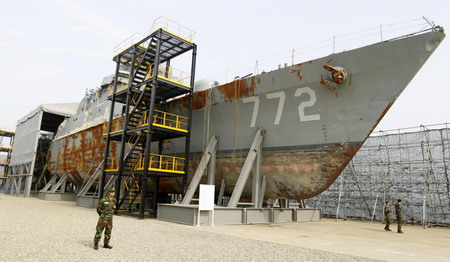 Navy soldiers stand guard near the wreckage of the naval vessel Cheonan, which was sunk on March 26 near the maritime border with the Democratic People's Republic of Korea, at the Second Fleet Command's naval base in Pyeongtaek, south of Seoul, May 19, 2010. Seoul said on May 20 evidence was overwhelming that a DPRK submarine fired the torpedo that sank the navy ship in March, killing 46 sailors. [Agencies]
ROK experts on Wednesday said the 1,200-ton warship Cheonan went sunk as a result of an "external underwater explosion" caused by a torpedo fired by a DPRK submarine, resulting in one of the worst peacetime casualties in the country's naval history.
Pyongyang released a statement on Wednesday, accusing Seoul of taking advantage of the sinking of its warship to push north-south relations to a catastrophe, and threatening that the blame trade has reached the height of "war moves".