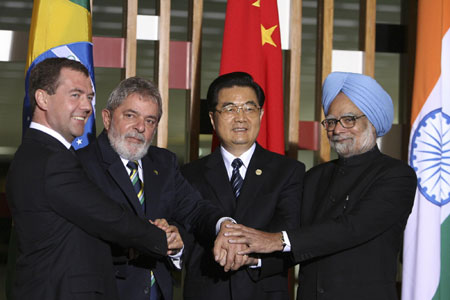 (From L to R) Russia's President Dimitry Medvedev, Brazil's President Luiz Inacio Lula da Silva, China's President Hu Jintao and India's Prime Minister Manmohan Singh gesture during a photocall at the Itamaraty Palace in Brasilia April 15, 2010. [Agencies]
BRASILIA - Leaders of Brazil, Russia, India and China concluded a summit here Thursday with calls for an urgent reform of the world financial system, including a quick readjustment of the voting power in the World Bank.
"We call for the voting power reform of the World Bank to be fulfilled in the upcoming spring meetings," leaders of Brazil, Russia, India and China, collectively known as "BRIC," said in a communique released at the end of the day-long summit.
The International Monetary Fund (IMF) and the World Bank urgently need to "address their legitimacy deficits," the communique said.
Reforming these institutions' governance structures requires a substantial shift in voting power in favor of emerging market economies and developing countries -- a shift to adjust their participation in decision making to their relative weight in the world economy, it added.

BRIC countries expect the quota reform of the IMF to be concluded by the G20 Summit in November this year.

The four countries also stressed the need for an open and merit-based selection method, irrespective of nationality, for top positions in the IMF and the World Bank.

Emerging market economies and developing countries have the potential to play an even larger and active role as engines of economic growth and prosperity, while at the same time commit to work together with other countries towards reducing imbalances in global economic development and fostering social inclusion, the leaders said.

The communique said the group called on world governments to resist trade protectionism in all forms. "We commit ourselves and urged all states to resist all forms of trade protectionism and fight disguised restrictions on trade."

Meanwhile, they stressed the need to maintain the stability of the world's reserve currencies.

"We underline the importance of maintaining relative stability of major reserve currencies and sustainablity of fiscal policies in order to achieve a strong, long-term balanced economic growth," the leaders said.

Chinese President Hu Jintao, Brazilian President Luiz Inacio Lula da Silva, Indian Prime Minister Manmohan Singh and Russian President Dmitry Medvedev attended the second summit of BRIC countries in Brasilia.

The Chinese president said at the meeting that China would like to host the third summit.