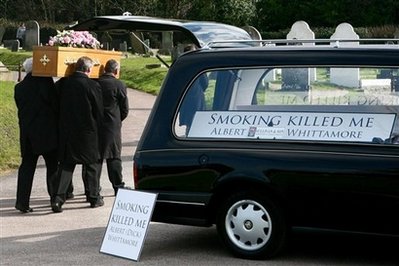 The coffin of life-long smoker Albert 'Dick' Whittamore is carried at St Mary's Cemetery in Dover, England, Tuesday March 2, 2010, during a burial service, after he died in January aged 85 from the lung disease emphysema. [Agencies]
LONDON - A smoker who died after battling emphysema has had his dying wish granted with the placement of a "Smoking killed me" sign on his hearse and his grave.
Related readings:


 Secondhand smoke damages arteries in teens: study


 Secondhand smoke raises TB risk: study


 Smoke ban 'mission impossible'


 Even third-hand smoke carries carcinogens: study
Albert Whittamore blamed his youthful smoking habit for the lung disease.
He said before he died at age 85 in February that he wanted the sign to serve as a warning to young people about the dangers of tobacco smoking.
The sign was designed to look like the health warning on a packet of cigarettes.
The printed placard at his grave will be left in place for a week.
The hearse carrying his body through the town of Dover 100 miles (160 kilometers) southeast of London had several of the printed signs displayed in the windows.