VANCOUVER, British Columbia - As Olympians arrive by the day, the Winter Games seem to be missing something. Namely, winter.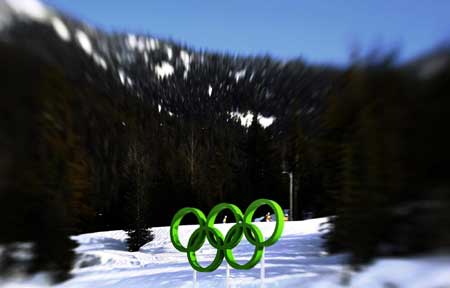 Members of Estonia's cross country team check out the course at Whistler Olympic Park during a free practice session for the Vancouver 2010 Winter Olympics in Whistler, British Columbia February 6, 2010. Picture is taken with a tilt and shift lense.  [Photo/Agencies]
Vancouver Olympic officials have touted these as "The Green Games," but Mother Nature might be taking that to an extreme. Some Vancouverites are now referring to them as "The Brown Games," given the muddy conditions at Cypress Mountain.
"When I got off the airplane it was like, 'What's this green grass doing here? This is the Winter Olympics,"' United States speedskater Trevor Marsicano said Sunday, recalling his reaction after flying in last week from Milwaukee, Wisconsin. "For me it's nice, because I'm used to, like, zero degrees. This is awesome."
Trouble is, with opening ceremonies only five days away, the above-freezing temperatures in Vancouver continue to raise concerns for other sports, particularly snowboarding and freestyle skiing, two events being held on the mountain overlooking the city.
The biggest test comes Monday, when freestyle moguls training sessions are scheduled to begin. Those sessions will provide the first onsite test after organizers spent much of the past few weeks hauling in snow by helicopter and by truck.
Related readings:


 Vancouver revs up for Winter Games


 Snow dumped on melting Vancouver mountain

 Vancouver unveils Winter Olympics podium


 Vancouver in two minds about Winter Games

Although organizers have stressed the courses on Cypress are almost complete, they did announce Sunday that they've pushed back training sessions on the parallel giant slalom snowboarding course by two days. The event begins February 26.
Training on the halfpipe was cut earlier from five to three days.
"The forecast is looking positive this week, and we'll hopeful see some colder temperatures," Tim Gayda, vice president for sport for the Vancouver organizing committee said Saturday.
The outlook, however, still appears as gray as the clouds that hung over the city and clung to the North Shore Mountains for most of Sunday.
An intermittent drizzle fell on Vancouver, and temperatures hovered just above freezing. It was colder on Cypress, with a light rain.
The long-range forecast has temperatures dropping on Wednesday, and a light snowfall projected for Saturday. And yet there are chances of daytime showers for much of this week, too.
It's even relatively warm in Whistler, where numerous events _ including Alpine skiing, bobsled and biathlon _ will be held in the mountain-locked community two hours north of Vancouver. The forecast for this week has temperatures hovering at the freezing mark.
In Vancouver, along the city streets and gardens, crocuses are starting to sprout and apple blossoms are starting to bud on trees, making for an unusual sight for a Winter Games host city.
The warm temperatures are somewhat unseasonable even for Vancouver, which like Seattle to the south is warmed by the Pacific currents and traditionally enjoys a mild year-round climate.
What is unusual is the lack of snow on the North Shore Mountains, which have experienced one of the warmest months of January on record.
This is not the first time a Winter Olympics has faced a lack of snow.
In 1998, Nagano had major concerns about a lack of snow in the months before the games, only to see some events canceled and spectators stranded by heavy snow during the Olympics. In 1988 in Calgary, bobsled competition was postponed when ice on the track melted.
According to the International Olympic Committee, the 1964 Innsbruck Games also faced a lack of snow. The Austrian army rushed to the rescue, carving out 20,000 blocks of ice from the mountainside and transporting it to the luge and bobsled tracks. They also carried 1.4 million cubic feet of snow to the Alpine ski slopes.