LA CANADA FLINTRIDGE, Calif.:Authorities say 43 homes have been damaged and 540 are under evacuation orders in the aftermath of powerful mudslides in the foothills north of Los Angeles that were stripped by a summer wildfire.
Los Angeles County Supervisor Mike Antonovich said at a news conference Saturday that parts of La Canada Flintridge were "devastated."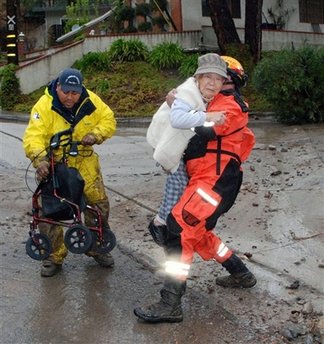 A Los Angeles County Fire Department Urban Search and Rescue (USAR) member, carries a 91-year-old woman from her flood-damaged home on Ocean View Boulevard Saturday, Feb. 6, 2010 in La Canada Flintridge, Calif. [Agencies] 
Antonovich said 12 homes had major damage and 31 had light or moderate damage. He says 25 vehicles were damaged.
There have been no reported injuries.
Antonovich blamed the destruction on the US Forest Service for what he called the agency's "inaction" last summer in dealing with the massive Station Fire that denuded hillsides that gave way Saturday.
Some residents complained they were not told to get out until the brunt of the damage was done — unlike during heavy rains last month when officials repeatedly warned foothill communities to be on alert.
"Nobody knew it was going to be this bad," said Katherine Markgraf, whose mother's house was filled with more than two feet of mud, debris and tangled tree roots. "Last time, they started warning us in time to prepare for it."
The storm's payload came between 4 a.m. and 5 a.m. Markgraf said she only got an alert around 10:30 a.m.
Los Angeles County Fire Inspector Matt Levesque said forecasters and county and city officials did not anticipate the magnitude of the slow-moving storm.
"If we had known there would have been this much rain we would have evacuated," Levesque said. "It was more rain than anyone thought, and more intense too. And it stalled there over the hillsides."
Rainfall totals topped 4 inches in a 24 hour period in some areas, the National Weather Service said.
Markgraf spoke to a reporter as she stood on Manistee Drive, a cul-de-sac under an overflowed debris basin at what appeared to be the epicenter of the storm's damage.
Her mother Pat Anderson, president of the La Canada chamber of commerce, who lives in the house, had to call a neighbor to help her escape the rising mud in the predawn darkness. Anderson's car had been sucked out of its garage and shoved against her next door neighbor's home.
Crews working to the road said some houses had been shifted from their foundations by the weight of the deluge.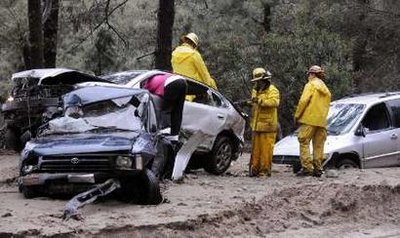 A women retrieves belongings from a car washed up on the side of a road as heavy rains causes mudslides in La Canada Flintridge, California February 6, 2010. Authorities worked to clear the mud-choked streets and ordered some 500 homes evacuated because more heavy rain was expected on Saturday afternoon and the hillsides remained dangerously unstable. [Agencies]