But some experts find report more constructive than old ones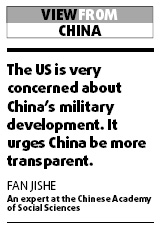 The United States military is still "very concerned" about China's military development, Chinese analysts said, commenting on the latest defense paper the US Ministry of Defense released yesterday.
But they pointed out the latest Quadrennial Defense Review (QDR) is already "the most constructive" one of its kind in referring to China, coming at a time when Sino-US ties are at their lowest point since Barack Obama became US president in January 2009.
The QDR is the main public document describing the US's military doctrine and it analyzes Washington's strategic objectives and potential military threats.
Alluding to China in his cover letter to the 2010 QDR, US Defense Secretary Robert Gates cited longer-term threats such as "the military modernization programs of other countries".
China is developing and deploying "large numbers" of advanced missiles, new attack submarines, long-range air defense systems and capabilities to wage electronic warfare and target computer systems, according to the report.
"Lack of transparency and the nature of China's military development and decision-making processes raise legitimate questions about its future conduct and intentions within Asia and beyond," the review says.
Related readings:


 No threat from military development


 China to halt military exchanges with US


 China regulates military headquarters

 Obama meets senior Chinese military officer


 U.S. calls for lasting military dialogue with China
According to the 2010 QDR Washington once again considers China as a country that deserves "high vigilance", China News Service said in a report.
The US military is "drawing up a new air-sea battle plan in response to threats such as China's persistent military buildup," Bloomberg news said.
The review emphasizes threats from China, while examining the need to defend against the threat of cyberattacks - without mentioning China by name - and China's focus on pre-emptive strikes, CNN said.
China's "unsatisfied" about the review, a Foreign Ministry spokesman said yesterday, noting Beijing's military buildup as "justified and normal".
"We hope the US can see China's development and defense buildup objectively, stop making irresponsible remarks, and do more to develop better Sino-US relations and trust," Ma Zhaoxu told a regular briefing.