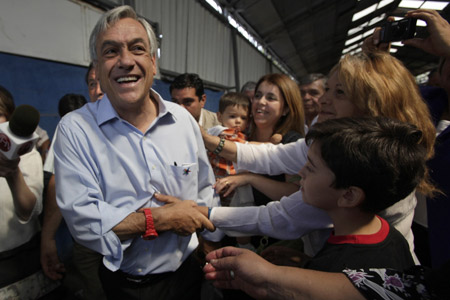 Opposition candidate Pinera wins Chile's presidential election www.chinaview.cn 2010-01-18 07:07:42 Print Chile's presidential candidate Sebastian Pinera of the right-wing opposition is greeted by his supporters during a campaign rally at Santiago January 15, 2010. [Xinhua]
SANTIAGO: Sebastian Pinera, presidential candidate for Chile's right-wing opposition, won 51.6 percent of Sunday's second-round presidential vote, with 99.2 percent of votes counted, Patricio Rosende, the nation's deputy interior minister announced on Sunday.
The ruling coalition candidate, Eduardo Frei, ended the contest with 48.3 percent of the vote. The figures confirm that Pinera, a businessman, will lead Chile's next government, which takes office on March 11 and replace the incumbent administration led by Michelle Bachelet. The result matches all the pre-election forecasts by media and analysts for a narrow victory by the businessman.
It is the first defeat for the ruling center left wing coalition since it took power in 1990 and the first electoral victory for the right in 52 years.
Meanwhile, Frei conceded defeat at a press conference.
"The election is over and Chileans have shown civic maturity," Frei said. "The results clearly show the solidity of our democracy. It has been clean and transparent in line with our tradition. I want to congratulate Pinera, to whom most Chileans have given their trust for the next four years," he added.
Related readings:


 Chile apologizes to indigenous people in 1881


 Chile runoff pits ex-president against billionaire


 Conservative favored in Chile run-off


 Chile shrugs off economic chill to strike out alone

Frei said he hoped that the social progress and freedoms won by his coalition could be preserved.
"I want to send a message to center left forces to maintain unity and to hold the flags of social justice and freedom high going forward," he said. "We will put Chile's interest first and will be the guardians of freedom and social progress."
Pinera is a partner in several of the nation's largest businesses including airline LAN Chile, publisher Los Andes, television channel Chilevision.
He was born in 1949 in Chile's capital Santiago, and earned an economics degree in the capital's Catholic University and a master degree at Harvard University in the U.S.. He was the nation's ambassador to Belgium and to the United Nations during the dictatorship period, and served in the Senate from 1990 to 1998. He was president of the Senate from 2006 to 2008 and is currently senator for Los Rios region.