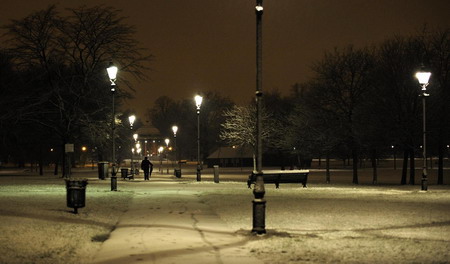 A man holds an umbrella as he strolls through a snow covered Clapham Common, in London December 21, 2009. [Agencies]
LONDON: It's a climate deal that has Europe feeling left out in the cold.
The continent that used to take the lead in advocating climate action is now taking the lead in climate complaining. And it's not just upset with the results, but the process itself.
Europe's goals were generally not met, and Danish Prime Minister Lars Loekke Rasmussen, host of the UN-sponsored climate talks in Copenhagen, was shoved aside as president of the conference in favor of Philip Weech of the Bahamas.
When a deal was reached, those in the room were heads of state from Africa, North and South America and Asia, not Europe.
Full Coverage:

Copenhagen Summit
Related readings:


 China refutes British criticism over climate talks


 UN's long marchin search of climate solutions


 UN climate talks end with bare minimum agreement


 UN climate official: Tough tasks ahead


 Developing nations slam US-led climate deal
The unhappiness extends to Europe's business community, which worries that a failure to agree to international emissions cuts could put them at a competitive disadvantage.
Since Europe had already agreed to binding emission cuts, "they needed the United States and developing countries to agree to binding reductions, which they didn't because the United States couldn't without the United States Congress acting," said Fred Krupp, president of the Environmental Defense Fund in the US The developing countries didn't agree because the US didn't, he added.
The Copenhagen Accord emerged principally from President Barack Obama's meeting with Chinese Premier Wen Jiabao and the leaders of India, Brazil and South Africa. But the agreement was protested by several nations that demanded deeper emissions cuts by the industrialized world.
The US-brokered compromise calls for reducing emissions to keep temperatures from rising more than 2 C (3.6 F) above preindustrial levels.
The agreement's key elements, with no legal obligation, were that richer nations will finance a $10 billion-a-year, three-year program to fund poorer nations' projects to deal with drought and other impacts of climate change, and to develop clean energy. A goal was also set to mobilize $100 billion a year by 2020 for the same adaptation and mitigation purposes.
The nations attending the UN conference agreed by consensus on a compromise to "take note" of the accord, instead of formally approving it.
Robert Orr, the UN policy coordination chief, said a document will shortly be opened for signatures from all countries, and UN Secretary-General Ban Ki-moon urged all to sign and work toward a legally binding treaty in 2010.
Politicians are blaming developing countries for cutting the heart out of the climate deal, with an EU official complaining that some Latin American countries had held the entire conference hostage.
"Never again should we face the deadlock that threatened to pull down those talks," British Prime Minister Gordon Brown said Monday. "Never again should we let a global deal to move towards a greener future be held to ransom by only a handful of countries."
EU officials returned from Copenhagen disappointed by the meager outcome of the conference and angry that countries such as Nicaragua, Bolivia, Sudan and Venezuela kept the rest from signing a more ambitious global pact.
The EU claimed a climate leadership role for Europe by promising in March 2007 to cut its emissions by 20 percent by 2020, compared with 1990, and by 30 percent if others, notably the United States, followed suit. While that has not happened, the EU is sticking by its emissions cuts of 20 percent and 30 percent.
But Europe's role is not what it could have been or used to be, said Jorgen Delman, a China studies professor at Copenhagen University.
"They didn't play the role they could have played," Delman said. "But I think it was clear that the US and China would be dominant. The European Union as a bloc was not in a position to be a dominant player."
Europe's problem was that it offered too much, too soon in negotiations, and was essentially taken for granted, experts said. In addition, when it comes to emissions of greenhouse gases, all of Europe combined isn't as a big a player as the US or China. The biggest emitter in Europe is Germany, and it is behind India, Russia and Japan.
"Europe could shut down and it really wouldn't matter" in terms of the types of significant emission cuts, said John Christensen, head of the UN Environment Program's center for energy, climate and sustainable development, based in Denmark.