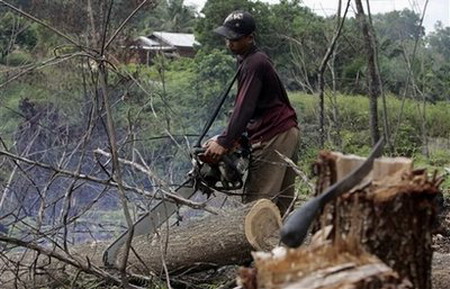 In this April 30, 2008 file photo, a worker uses a chainsaw to cut an acacia log while clearing an area near Bukit Tiga Puluh, Riau, Central Sumatra, Indonesia. [Agencies]
BANGKOK: In a potentially valuable boost to fighting climate change, rich and poor countries are close to an agreement to end the destruction of the world's forests in 20 years, government negotiators said.
It depends, however, on whether consensus on an overarching climate accord is reached by the 192 countries at the UN climate summit in Copenhagen starting Monday. But governments and environmentalists hope the forest plan will embolden delegates to overcome their differences and set ambitious targets for curbing the carbon emissions blamed for global warming.
"This has the chance to be one of the real political breakthroughs to helping deliver a deal in Copenhagen," said Duncan Marsh of The Nature Conservancy. "This can be one of the things that brings countries together around a real north-south bargain to protect climate."
Full Coverage:

Copenhagen Summit
Related readings:


 UN sees 'signs of optimism' for Copenhagen summit


 France to propose World Environment Organization in Copenhagen


 Obama surprises with Copenhagen summit decision


 Some 90 world leaders to attend Copenhagen climate summit


 Wen: Copenhagen summit key moment to tackle climate change
When it comes to greenhouse gases, the public tends to focus on smokestacks and exhaust fumes. But deforestation, the burning or rotting of trees, is thought to account for up to 20 percent of carbon dioxide sent into the atmosphere, as much as all the world's cars, trucks, trains, planes and ships combined.
The draft plan worked out at negotiations in Bangkok and elsewhere is called REDD, for Reducing Emissions from Deforestation and Degradation. It calls for halving deforestation rates by 2020 in poor nations and ending it completely by 2030.
It would be financed either by richer nations' taxpayers or by a carbon-trading mechanism, a system in which each country would have an emissions ceiling, and those who undershoot it can sell their remainder to over-polluters. Under carbon trading, the rich countries would pay the poor ones to keep their forests intact, and earn new carbon credits to cover their own emissions.
Policymakers see forest conservation as a cheap and easy way to start tackling global warming. It could end up reducing by 50 percent the cost of halving carbon emissions from 1990 levels by 2030, according to the Eliasch Review, a report sponsored by the British government.
Decades of international efforts and vast sums of money have done little to save the forests.
About 32 million acres (13 million hectares) are cut down each year -- an area about the size of England or New York State, according to the Eliasch Review.
REDD would take several years to set up, and could result in more than $30 billion a year going toward forest protection in more than 40 tropical nations, according to the UN.
But delegates see stumbling blocks: fears that the agreement could become unwieldy if it is stretched to include peatlands and plantations on destroyed forest, measures to prevent corruption and protect forest-dwelling communities, and questions over how to finance the scheme and which countries can participate.
Brazil wants rich nations to contribute 20 billion euros ($30.3 billion) in direct aid by 2015, and wants to limit to 10 percent the amount of credits rich countries can get for investing in forests. Other tropical nations counter that carbon markets should play a bigger role.
Supporters of the carbon market system say it would create a pay-for-performance system. "The money doesn't flow unless you have demonstrated reductions in forest-based emissions below some agreed reference," said Frances Seymour, director of the Center for International Forestry Research, an Indonesia-based research institute.