The world's tallest skyscraper under construction in this Gulf city-state will take longer than planned to finish, its builders said yesterday, putting off the opening planned for the end of this year.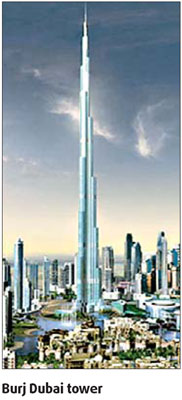 The Burj Dubai tower currently stands over 500m tall. The state-owned developer Emaar Properties said completion would be postponed until sometime in 2009. It did not give specifics, but the newspaper Gulf News and the online news site ArabianBusiness.com said the delay would be four months.
"The company would rather opt for a nominal delay in total quality execution of the Burj Dubai... than compromise on any aspect of quality," Emaar, one of the main builders in this Gulf boomtown, said in a press release without elaborating.
Emaar did not give the reason for the delay and the company's representatives refused to answer calls yesterday.
The final height of Burj Dubai is a closely guarded secret. Emaar's representatives previously said the tower will stop somewhere above 693 m.
Last summer, the company said the skyscraper had reached 512 m, surpassing Taiwan's Taipei 101 which has dominated the global skyline at 508 m since 2004.
When completed, the Burj Dubai will feature more than 160 floors, 56 elevators, luxury apartments, boutiques, swimming pools, spas, exclusive corporate suites, Italian fashion designer Giorgio Armani's first hotel, and a 124th floor observation platform.
Emaar chairman Mohammed Ali Alabbar recently said at a conference on tall buildings that "quality is the first priority in the execution of Burj Dubai." He also said that several designs for the building's interior were "rejected at various stages," without mentioning the projects' details and designers' names.
Thousands of Asian workers are currently working on skyscraper's cladding. The $1 billion Burj - the Arabic word for "tower" - is in the heart of downtown Dubai, a 2-million-square-meter development area worth $20 billion.
The downtown Dubai area will eventually have 19 residential towers, nine hotels, the Dubai Mall, and a 130,000-square-meter artificial lake.
Construction on the skyscraper, determined to break world's record in its climb to the sky, began in 2004. Work has been frenzied, with laborers working 24-hours days in three shifts. At times one story was raised every three days.
The architects and engineers are American and the main building contractor is South Korean.
Dubai, one of the seven semiautonomous emirates that make up this oil-rich Gulf nation, has commissioned world's top architects to dot this fast growing city's skyline with avant-garde structures, previously unseen in the Middle East.
Agencies