US Senator Hillary Rodham Clinton has scored comeback primary wins in Ohio and Texas, ending a string of defeats and obtaining a hard-won chance to keep on her bid for the White House.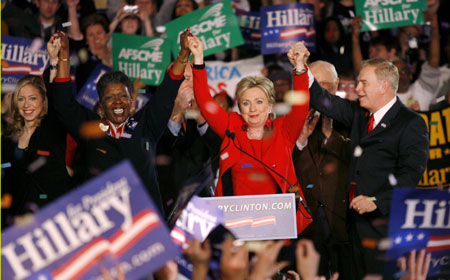 US Democratic presidential candidate Senator Hillary Clinton (C) celebrates with supporters at her Ohio primary election night rally in Columbus, Ohio March 4, 2008. At left is her daughter, Chelsea Clinton. [Agencies]
Clinton also won Rhode Island. She told jubilant supporters, "We're going on, we're going strong and we're going all the way."
Special coverage:
2008 US Presidential Election
Related readings:


 Obama, Clinton duel in Ohio, Texas


 Clinton, Obama face reckoning


 Clinton, Obama battle to end in Ohio, Texas races


 Obama slams Clinton on homestrech


 Hillary Clinton raises $35m in Feb


 Clinton to press ahead after primaries
Obama won the Vermont primary, and sought to counter Clinton's claims that the night had been a race-altering event. "We have nearly the same delegate lead as we did this morning and we are on our way to winning this nomination," he told supporters in Texas.
The two rivals also competed for support in caucuses in Texas that began 15 minutes after the state's primary polls closed.
Both Democrats called McCain -- a Senate colleague -- to congratulate him on his triumph in the Republican race.
The 71-year-old Arizona senator surpassed the 1,191 delegates needed to win his party's nomination, completing a remarkable comeback that began in the snows of New Hampshire eight weeks ago. US President Bush invited him to lunch -- and an endorsement -- at the White House on Wednesday.
"We are in Iraq, and our most vital security interests are involved there," said McCain at a victory celebration nearly a decade in the making.
McCain's last remaining major rival, former Arkansas Gov. Mike Huckabee, conceded defeat after a campaign that included a stunning victory in the leadoff Iowa caucuses on Jan. 3. "My commitment to him and the party is to do everything possible to unite our party, but more important to unite our country so that we can be the best we can be," Huckabee said in Irving, Texas.
Clinton's victory in Ohio and Texas gave her, at the very least, a psychic boost after a tough month in which she watched Obama roll up victory after victory and build a lead in delegate toll. There was virtually no chance that Clinton could have survived had she lost both Ohio and Texas; her husband, former President Bill Clinton, said his wife needed to win both states.
Her share of the Ohio vote was 55 percent in nearly complete returns, and she was winning nearly 51 percent in Texas.
Obama was gaining roughly 60 percent of the Vermont vote. Clinton won the Rhode Island primary with more than 58 percent of the vote.
In the four-state competition for delegates, Clinton picked up at least 100, to at least 77 for Obama. Nearly 200 more remained to be allocated for the night, 163 of them in the Texas primary and caucuses.
Obama had a total of 1,466 delegates, including separately chosen party and elected officials known as superdelegates, according to the Associated Press count. He picked up three superdelegate endorsements Tuesday.
Clinton had 1,376 delegates. It takes 2,025 to win the nomination.
With their remarks, first Clinton, then Obama, sought to frame the race in the best possible terms for their own campaigns.
"They call Ohio a bellwether state, the battleground state. It's a state that knows how to pick a president and no candidate in recent history, Democrat or Republican, has won the White House without winning the Ohio primary," the former first lady said in Columbus.
Moments later, Obama stepped to the microphone in San Antonio. He said the outcome of the Texas primary might not be known until Wednesday, and he all but conceded defeat in Ohio. Either way, he added, it was the delegates that mattered.