DERA ISMAIL KHAN, Pakistan -- Security officials in Pakistan's North West Frontier Province said Saturday they arrested a teenager allegedly involved in the assassination of former Prime Minister Benazir Bhutto last month.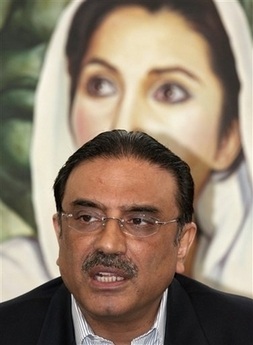 Asif Ali Zardari, husband of Pakistan's slain opposition leader Benazir Bhutto, addresses the media at a news conference in Karachi, Pakistan, Tuesday, Jan. 15, 2008. [Agencies]
The suspect, 15-year-old Aitezaz Shah, told investigators he had been part of a five-man squad deployed that day in the city of Rawalpindi, where Bhutto was killed, a senior intelligence official said on condition of anonymity because he was not authorized to speak to media.
In the capital, Islamabad, however, a government spokesman said he could not confirm the official's claim. Interior Ministry spokesman Jawed Iqbal Cheema said he had no information about any arrests in the area allegedly involved, or of any new developments in the Bhutto case.
The intelligence official said Shah had told investigators that the team of assassins had been dispatched by Baitullah Mehsud, a militant leader from the South Waziristan region, with strong ties to al-Qaida and an alliance with the Taliban in nearby Afghanistan.
Bhutto, a former prime minister, died when one member of the squad, whom Shah allegedly identified as Bilal, fired at her and detonated an explosive vest as Bhutto was leaving an election campaign rally in Rawalpindi. The blast killed at least 20 other people and wounded scores more.
The death of Bhutto, Pakistan's most popular opposition leader, threw Pakistan into turmoil and triggered riots that left more than 40 people dead. It forced the government of President Pervez Musharraf to delay by six weeks parliamentary elections that had been set for January 8.
A senior district police officer in Dera Ismail Khan, a town 280 kilometers (168 miles) southwest of Islamabad, confirmed Shah's arrest and said the suspect had made "a sensational disclosure." The officer also asked not to be named because of the sensitivity of the matter.
In Washington, US intelligence officials have concluded that Mehsud, who heads a network of armed groups in the lawless region along Pakistan's border with Afghanistan, organized the attack on Bhutto as part of a campaign of assassinations of Pakistani officials and suicide bombings in the country.
Bhutto had returned to Pakistan in October after spending nearly eight years in exile following the military coup in which Musharraf, a key US ally in the war on terror, seized power in 1999. She had vowed to support tough military measures against Islamist militants who have used the border regions as a staging area for infiltration into Afghanistan.
Shah was arrested Thursday in Dera Ismail Khan with another militant identified as Sher Zaman, according to both officials.
The intelligence official said that Shah had told investigators he was supposed to carry out a suicide attack on a Shiite mosque there on Sunday during the feast of Ashura, and that Zaman was going to provide him with an explosive vest.
Shah named the man who assisted Bilal in the attack on Bhutto as Ikram, the official said. Islamic militants in Pakistan often go by false names to disguise their identities.
On Friday, the military said that up to 90 Islamic militants aligned with Mehsud had died in clashes with Pakistani troops in South Waziristan.
The intensifying combat highlighted the deteriorating security situation in the region.
In a new show of strength in the past several days, hundreds of Mehsud's fighters mounted attacks on the two forts in the area, exposing the Pakistani military's weak grip over the area.