TBILISI - Georgian former president Mikhail Saakashvili has won Saturday's presidential election by 53.8 percent of votes and his supporters have started to celebrate his victory.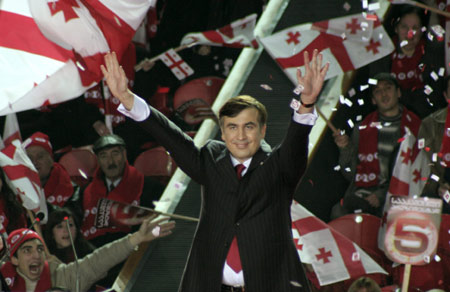 Georgia's presidential candidate Mikhail Saakashvili greets his supporters in Tbilisi January 4, 2008. [Xinhua] 
The exit polls which showed Saakashvili's victory was based on statistics till 8 p.m. local time (1600 GMT), before the official end of the 12-hour voting.
Previous exit polls based on statistics at 4 p.m. local time also indicated a more than 50 percent results.
"The four-hour difference will not change the percentage of votes," a representative of the exit polls organizations said on a live-broadcast briefing.
Related readings:


 Georgians start to cast votes in presidential election


 Saakashvili registered as 1st presidential candidate


 Georgian president to resign on Monday


 Georgia's state of emergency to be lifted Nov 16
Under Georgian law, a 50 percent plus one vote will ensure the victory of a candidate.
Business tycoon Levan Gachechiladze, a leading competitor of Saakashvili, won 28.5 percent and the other five opposition candidates won less than 20 percent of ballots in total, the exit polls showed.
Thousands of supports of Saakashvili have gathered at his campaign office for celebration and dozens of mini buses are parked outside the gym in downtown Tbilisi.
Dozens of motorcades with national flags sticking out have been cruising around the mountainous capital and petrol police vehicles are frequently seen on the street on the Orthodox Christmas eve.
If no candidate wins in the first round, a second round of voting between the top two candidates in the first round will follow two weeks later and who wins a majority in the run-off wins the election.
Two think-tanks, the Caucasus Institute for Peace, Democracy and Development and the Georgian Foundation for Strategic and International Studies, have joined with the Georgian Institute of Public Affairs and government-funded Ilia Chavchavadze State University to carry out the exit polls.