Caracas - President Hugo Chavez wants Venezuelan clocks turned back half an hour and he wants it done in record time -- next Monday.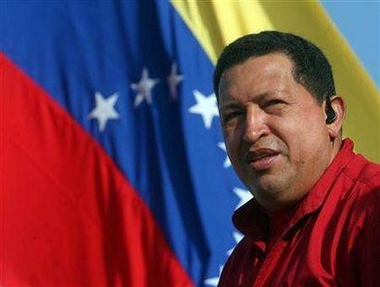 Venezuelan President Hugo Chavez is seen in Maturin, Venezuelan on September 17, 2007.  [Reuters] 
"I don't care if they call me crazy, the new time will go ahead, let them call me whatever they want," Chavez said on his weekly TV show. "I'm not to blame. I received a recommendation and said I liked the idea."
The shift will allow children to wake up for school in daylight instead of before sunrise, Chavez said.
That may seem reasonable to many Venezuelans, but ordering the change with little notice and scant public education has raised questions over how much thought was given to the plan.
In his live show, he called on his brother, the education minister, so that the two men could explain the measure. But they mistakenly told Venezuelans to move their clocks forward at midnight on Sunday, when the policy is to move them back.
Chavez dismissed criticism that moving the time only a half hour was quirky, questioning why the world had to follow a scheme of hourly divisions that he said was dictated by the 'imperial United States'.
The change will put Venezuela on its own time zone, shared by no other country. Several countries have adopted times that put them half an hour ahead or behind neighbours, and Nepal's official time is just 15 minutes ahead of that of India.
Venezuelan businesses are now scrambling to call in technicians to reprogram their computers for the time change.
Since first announcing last month that Venezuela would shift from four hours behind Greenwich Mean Time to four and a half hours, Chavez, his brother and other senior officials have given varying dates for the change.
This week, Chavez plumped for Monday, but his science and technology minister then said coordination with international organization might postpone the move until January.
For Chavez, the clock move is simpler than people think. It is a one-off change and he notes that Venezuela does not follow many other countries in regularly moving clocks an hour forward for summer and back for winter.
"It's something that's done around the world each year and several times a year and here we are just doing it once in a century."