BAGHDAD - A car bomb struck a market in a Kurdish area in the northern city of Kirkuk on Friday, killing at least eight people and wounding dozens, police said. South of Baghdad, the US military said a helicopter was forced down, leaving two soldiers injured.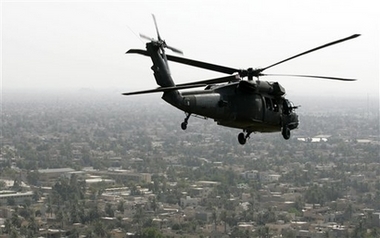 US military helicopter flies over Baghdad, Iraq on Sunday, Aug. 5, 2007. [AP]
The attack in Kirkuk, a disputed oil-rich city that has seen a recent rise in ethnic tensions, occurred while the capital remained relatively calm under a driving ban aimed at preventing such attacks during a major Shiite pilgrimage.
The helicopter was en route to support a planned mission when it made the forced landing in Youssifiyah, the military said, adding the cause was not immediately clear from initial ground reports but was being investigated. Two soldiers sustained non-life threatening injuries, according to the statement.
US-led forces had secured the site and recovered the aircraft, military spokesman Lt. Col. Rudolph Burwell said.
An Iraqi army officer, who spoke on condition of anonymity because he wasn't authorized to release the information, said the helicopter went down after hitting an electricity pole at about 1:30 am He said the raid was targeting a senior al-Qaida in Iraq leader in the agricultural area. Burwell said he could not confirm that report.
Youssifiyah, 10 miles south of Baghdad, is in the area south of Baghdad known as the triangle of death for the insurgent activity there.
It was the second helicopter to go down in less than two weeks. On July 31, an AH-64 Apache helicopter went down after coming under fire in eastern Baghdad. The two crew members were safely evacuated, the military said.
Insurgents also shot down a US military helicopter south of Baghdad on July 3, and the two pilots were rescued with minor injuries, the military said.
Scattered violence struck Iraqis nationwide, with at least 15 people killed or found dead.
The deadliest attack was a parked car bomb that tore through the stalls as the market was packed with afternoon shoppers in a predominantly Kurdish area in southern Kirkuk, 180 miles north of Baghdad.
Police initially said it was a suicide attack, but police Brig. Gen. Sarhad Qader later said it was a parked car bomb. Qader said at least eight people were killed and 45 were wounded.
Tensions have increased as Kurds seek to incorporate the oil-rich city into their autonomous zone in northern Iraq - a move opposed by Arabs and Turkomen in the area.