KANDAHAR, Afghanistan _ A purported Taliban spokesman said Monday the hard-line militia has extended its deadline for the lives of 23 South Korean hostages until Tuesday evening.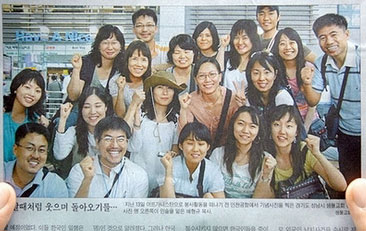 A man holds the South Korean newspaper Chosun Ilbo which displays on their front page an image of a group of South Korean Christians posing for a commemorative photograph before leaving for Afghanistan on 13 July. [AFP]


Qari Yousef Ahmadi, who claims to speak for the Taliban, said late Monday the militants extended the deadline another day after the Afghan government refused to release any of the 23 Taliban prisoners the insurgents want freed.
The militants have pushed back their ultimatum on the Koreans' fate at least three times. Afghan officials in Ghazni province have met the militants in person and are also negotiating over the phone, but little progress appears to have been made so far.