SAO PAULO, Brazil - A Brazilian passenger jet crashed and burst into flames Tuesday after skidding off a runway and barreling across a busy highway, officials said. All 176 people on board were feared dead in what would be Brazil's deadliest air disaster, and at least 15 were killed on the ground.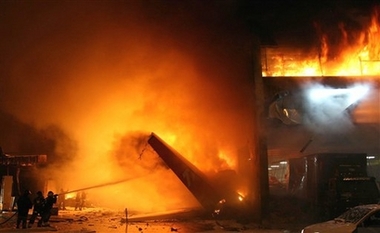 Firefighters try to extinguish a fire at the site where a TAM airlines commercial jet crashed in Sao Paulo, Tuesday, July 17, 2007. [AP]


The death toll officially stood at 40 after the crash of the Airbus-320 owned by TAM airlines, but that number was expected to rise sharply as rescue workers, forensic experts and doctors scoured the wreckage in South America's largest city.

The crash - Brazil's second major disaster in less than a year - happened in a driving rain on a runway at Congonhas airport that had been criticized in the past for being too short. The TAM Airlines jet slammed into a gas station and a building owned by the airline, said Jose Leonardi Mota, a spokesman with airport authority Infraero.

An official said early Wednesday that 25 charred bodies had been recovered from what was left of the plane and that 15 people who were on the ground either died at the scene or in hospitals.

Ten more people on ground were injured and hospitalized, according to a Sao Paulo state public safety media official who spoke on condition of anonymity because of department policy.

"I was told that the temperature inside the plane was 1,000 degrees (Celsius), so the chances of there being any survivors are practically nil," Sao Paulo State Gov. Jose Serra told reporters at the airport. That temperature in Celsius is equivalent to about 1,830 degrees Fahrenheit.

President Luiz Inacio Lula da Silva declared three days of national mourning for the victims, and presidential spokesman Marcelo Baumbach told reporters late Tuesday that no cause would be immediately released because it was premature to do so.

"His worries now are with the victims and the relatives of the victims. That is main concern," Baumbach said, referring to Lula.

TAM Linhas Aereas Flight 3054 was en route to Sao Paulo from the southern Brazilian city of Porto Alegre. TAM Airlines said there were 176 people on board - 170 passengers and six crew members. A Brazilian congressman was among those on the flight, his aide said.

The airline released an list of most of the people on the flight early Wednesday, but did not specify their nationalities.

"TAM expresses its most profound condolences to the relatives and friends of the passengers who were on Flight 3054," the company said.

Before the list was released, Lamir Buzzanelli said his 41-year-old son, Claudemir, an engineer, had called him from Porto Alegre to say he was in the plane and about to return from a business trip.

"My hopes are not too high because I've been calling him on his cell phone, and all I get is his voice mail," Buzzanelli said, his eyes tearing up.

The crash highlights the country's increasing aviation woes. In September, a Gol Airlines Boeing 737 collided with an executive jet over the Amazon rainforest, causing the passenger jet to crash, killing 154 people.

Since then, there have been questions about the country's underfunded air traffic control systems, deficient radar system and the airlines' ability to cope with a surge in travelers. Controllers - concerned about being made scapegoats - have engaged in strikes and work slowdowns to raise safety concerns, causing lengthy delays and cancelations.

TAM worker Elias Rodrigues Jesus, walking near the site just as the crash happened, told The Associated Press that the jet exploded in between the gas station and a warehouse owned by TAM.

"All of a sudden I heard a loud explosion, and the ground beneath my feet shook," Jesus said. "I looked up and I saw a huge ball of fire, and then I smelled the stench of kerosene and sulfur."

Critics have said for years that such an accident was possible at the airport because its runway is too short for large planes landing in rainy weather. Two planes had slipped off the runway in rainy weather on Monday, but no one was injured in either incident.

In 1996, a TAM Airlines Fokker-100 skidded off the runway at the airport and down a street before erupting in a fireball. The crash killed all 96 people on board and three on the ground.

A federal court in February briefly banned takeoffs and landings of large jets because of safety concerns at the airport, which handles huge volumes of flights for the massive domestic Brazilian air travel market.

But an appeals court overruled the ban, saying it was too harsh because it would have severe economic ramifications and that there were not enough safety concerns to prevent the planes from landing and taking off at the airport.

After the September airliner crash, a Brazilian judge indicted four flight controllers and the smaller jet's two US pilots on the equivalent of manslaughter charges, but the defendants point to other problems - from holes in radar coverage to the inability of some Brazilian controllers to clearly speak English, the language of international aviation.

Travelers angry over excessive delays and cancellations in recent months have stormed airline check-in counters and runways in Brazil, and fist fights have broken out in waiting areas.

| | | |
| --- | --- | --- |
| 1 | 2 | |