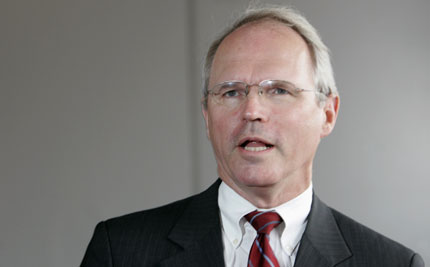 US Assistant Secretary of State and top US nuclear envoy Christopher Hill speaks to journalists upon his arrival in Beijing ahead of the six-party talks July 17, 2007. [Reuters]

US envoy Christopher Hill said Tuesday that convincing North Korea to give up its nuclear weapons remained a tough task, as negotiators arrived in Beijing for a fresh round of disarmament talks.

"We have got a lot of work to do. We have got a lot of catching up to do," Hill told reporters at Beijing airport ahead of the six-nation meeting that will begin Wednesday.

The planned resumption of the talks comes after North Korea closed its Yongbyon nuclear reactor Saturday, the first step it was required to take under a six-nation disarmament accord brokered in February.

Before flying into Beijing, North Korean nuclear envoy Kim Kye-Gwan said he was willing to talk about the next steps in implementing the accord.

"The first phase has been accomplished," the Xinhua news agency quoted Kim as saying in Pyongyang, referring to the closure of Yongbyon. "So the talks will focus on the sequence of the obligations and actions to be taken by the concerned parties in the second phase."

Hill said he expected to meet Kim on Tuesday.

The February accord states that North Korea will eventually completely abandon all its nuclear programs in return for energy aid, diplomatic concessions and security guarantees.

However Hill and others involved in the process have stressed that the closure of Yongbyon did not mean North Korea would give up its weapons program anytime soon, and that many hurdles still needed to be overcome.

"North Korea has taken an important step... by shutting down Yongbyon," South Korean envoy Chun Yung-Woo said after arriving in Beijing.

"But the journey to denuclearization is just at the beginning. A very difficult road lies ahead. We need to assure North Korea that a bright world will be at the end of that road."

Aside from the two Koreas and the United States, the six-nation talks involve China, Japan and Russia. Beijing has been the permanent host to the talks.

Under the February accord, North Korea said it would close Yongbyon and allow inspectors from the United Nations' atomic watchdog back into the country in return for 50,000 tons of fuel oil.

The first shipments of the fuel oil arrived from South Korea Saturday, and the North immediately closed the reactor. The UN inspectors also returned to North Korea Saturday and confirmed Yongbyon had been shut down.