ISLAMABAD, Pakistan - Chunks of concrete are missing from the mosque's minarets. The walls of a religious school painted with Islamic verses are peppered with bullet holes. Black flies swarm over a makeshift bunker, blasted apart under a stairwell.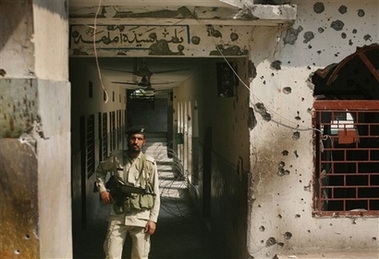 A Pakistani soldier guards a hallway next to blood splattered and bullet-pocked walls in the Lal Masjid, or Red Mosque, compound in Islamabad, Thursday, July 12, 2007. [AP]


A day after Pakistani commandos killed the last Islamic militants barricaded inside the Red Mosque complex, the army guided journalists around the shattered masonry and blackened interiors Thursday amid lingering questions over how many civilians died.

Officials say 108 people in all were killed during eight days of fighting that began with street battles between militants and security forces on July 3, but they haven't provided a precise breakdown of casualties.

The government says 85 deaths occurred during the 35-hour battle that ended the siege, including nine soldiers and 19 bodies burned so severely they couldn't be identified. It said earlier deaths included a soldier, a policeman, some militants and several civilians who were caught in the crossfire of the initial street fighting.

The military hoped to ease public skepticism and demonstrate how the heavily armed extremists turned one of the capital's most prominent holy sites into a fortress.

Opening barriers of tangled barbed wire around the sprawling compound, soldiers escorted reporters through the bent-back metal gates of the Jamia Hafsa, a religious school for girls next door to the Red Mosque.

Signs of fierce room-to-room fighting were everywhere. Inside and out, the concrete and white plaster walls were riddled by gunshots from commandos who breached the southern walls of the four-story building and traded fire with its defenders.

Militants appeared to have prepared firing positions, some on the exterior fortified with sand bags. But the stiffest resistance came from basement rooms where pro-Taliban cleric Abdul Rashid Ghazi was shot dead after refusing to surrender. He had spearheaded an increasingly violent vigilante campaign against vice in Islamabad.

The army said it had recovered 75 bodies inside the complex by late Thursday. Officials said none appeared to be women or children, but conceded that 19 bodies were burned beyond recognition.

Pakistani citizens and news media have questioned the government's claim that virtually all noncombatants escaped harm during the savage fighting of the final battle, which began before dawn Tuesday and raged on for 35 hours.

"There's no cover-up. Why should we?" Information Minister Mohammed Ali Durrani said.

Qazi Hussain Ahmed, chief of Pakistan's biggest Islamic party, Jamaat-e-Islami, alleged Thursday that between 400 and 1,000 students and their teachers died in the army attack - but he offered no evidence. He said he would file a legal case against Pakistan's president, Gen. Pervez Musharraf, over the deaths.

Thousands of girls and women aged from 4 into their early 20s studied the Quran at the Red Mosque school for females. There was also a school for young men.

The government said about 1,300 people fled unharmed during the weeklong standoff.

Around two courtyards inside the girls' school, plain concrete rooms that once doubled as classrooms and sleeping quarters are littered with shattered glass and spent bullets. Bed rolls and school books were stacked against walls.

Maj. Gen. Waheed Arshad pointed inside a small, charred, windowless room, saying a suicide bomber blew himself up with five or six hostages during the commando assault. He said the corpses were charred beyond recognition.

Next door, flies swarmed over chunks of masonry where militants had fashioned a bunker under a stairwell. It was not immediately clear if any human remains were underneath.

Arshad said a second suicide bomber detonated himself inside the white-domed Red Mosque - one of the most famous in the Pakistani capital.

Soldiers, who were still searching the complex for bodies and land mines, recovered two other suicide vests - one from the body of a fighter, Arshad said. The other was among an arsenal of the militants' weapons and equipment that the army put on display.

Also on show were three crates of gasoline bombs fashioned from green Sprite bottles, gas masks, machine guns, rocket-propelled grenades, recoilless rifles, dozens of AK-47 assault rifles, pistols and two-way radios. Large plastic buckets held knives and homemade bombs the size of tennis balls.

The mosque sustained less damage than the school, although its entrance hall was burned out, the ceiling scorched and red walls above the oval doorway blackened. Daylight shone through hundreds of bullet holes in the corrugated roof.

The mosque's two white minarets also had chunks of masonry missing. Arshad said militants had used them as vantage points. The white dome, however, appeared undamaged.

Arshad revealed that 164 commandos of the elite Special Services Group fought inside the mosque in the final battle, and said nearly a third of them became casualties - nine killed and about 40 wounded.

"With militants in different rooms, firing from behind pillars, and then going into basements and clearing it, you can understand the difficulties," he said.