U.S. troops raided a Shiite neighborhood of Baghdad on Thursday in a hunt for militiamen linked to Iran, sparking exchanges of fire and a mortar attack. Officials said 19 people were killed, and residents said some of the casualties were caused by U.S. helicopter fire.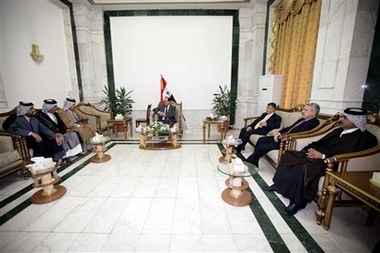 In this image released by the Iraqi government, Iraqi Prime Minister Nouri al-Maliki, center, and tribal leaders from Basra and Nasiriyah provinces meet in Baghdad Thursday, July 12, 2007. [AP]


The U.S. military had no immediate comment on the violence in the eastern Amin district of the capital.
The violence began with a pre-dawn raid by U.S. forces that the military said captured two militants involved in kidnappings and planting roadside bombs against U.S. and Iraqi troops. Militants fired a rocket-propelled grenade at the troops, hitting a nearby building, the military said.
U.S. troops later surrounded the neighborhood, announcing via loudspeakers to residents that they were seeking militants and that they should stay inside, said an Iraqi police official who was at the scene. As the Americans withdrew around 11 a.m., they came under fire, prompting troops to move back into the district, assaulting several buildings, the official said.
The result was an exchange of fire that included mortars and rockets, the official said. Residents ¡ª many of them Shiites who fled to Baghdad from Baqouba, where U.S. forces have been waging a three-week-old offensive ¡ª said that during the fighting, a U.S. helicopter hit several residential buildings and a minibus.
AP Television News video showed buildings riddled with holes from heavy machine guns and rockets, and a heavily damaged minibus.
Another police official involved in compiling casualties said 19 people were killed and 20 wounded, a toll confirmed by officials from the three hospitals where the victims were taken. The officials spoke on condition of anonymity because they were not authorized to release the information.
An Iraqi photographer and driver employed by Reuters news agency were killed Thursday in eastern Baghdad, the London-based agency said. The hospital officials said the two Reuters staffers ¡ª identified as photographer Namir Noor-Eldeen, 22, and driver Saeed Chmagh, 40 ¡ª were among the 19 dead in Amin.
"The cause of their deaths was unclear, although witnesses spoke of an explosion in the area," Reuters said. "Iraqi police said either a U.S. airstrike or a mortar attack had occurred."
U.S. and Iraqi forces have been cracking down on Shiite militants even as they wage offensives in and around Baghdad aimed at uprooting Sunni insurgents and extremists from al-Qaida in Iraq. The campaign seeks to reduce violence in the capital to boost the government as it tries to push through political reforms.
The military said the two captured militants belonged to Iranian-backed "special groups" linked to the Mahdi Army, the militia loyal to anti-U.S. Shiite cleric Muqtada al-Sadr. The U.S. has accused Iran's Revolutionary Guards of organizing and arming a network of the special groups to carry out attacks on U.S. and Iraqi forces and kidnappings.
In southern Iraq, clashes erupted between Shiite militants and the Iraqi army, killing a soldier and a civilian in the city of Diwaniyah, police said. The clashes came hours after the U.S. military said aircraft struck a group of militants planting a roadside bomb before dawn, killing five of the militants.
A suicide bomber detonated an explosives belt near a wedding party in Tal Afar, a city 260 miles northwest of Baghdad that has seen frequent bombings by Sunni insurgents. A police officer in Tal Afar said five people were killed and five wounded, although the bride and groom escaped injury. The officer spoke on condition of anonymity because he was not allowed to talk to the press.
On Thursday, robbers stole about $680,000 from a bank in central Baghdad, police said. The theft at the private Dar al-Salam bank was discovered by the bank manager when it opened in the morning, and suspicions fell on overnight guards, a police official said. Arrest warrants have been issued against the guards, said the official, who spoke on condition of anonymity because he was not authorized to talk to the press.
While the military presses ahead with its offensives, Iraqi politicians have been mired in divisions holding up passage of key political benchmarks sought by the United States to encourage the country's Sunni Arab minority to support the government.
Sunni Arabs are boycotting the government of Prime Minister Nouri al-Maliki and the parliament because of various political disputes. Sunnis and Kurds have come out against a draft of a key oil law, the first of the benchmarks.
For weeks, al-Maliki has been speaking of a Cabinet reshuffle to streamline his fragile government to a core of parties to push through log-jammed legislation. But so far, a new Cabinet has not emerged.
"Work is going on to back the prime minister and to strengthen the government and stand by its side ... and work so that the government be more powerful than it is today," Abdul-Aziz al-Hakim, the leader of Iraq's largest Shiite political party, told The Associated Press.
Al-Hakim, head of the Supreme Islamic Council of Iraq, said his party wanted to resolve disputes with Sunnis to keep them in the political process. "We will work as we did in the past and continue to keep them with us and participate together in the rule and serving the Iraqi people," he said. "If there are problems, then there should be serious efforts to solve them."
His comments came in written answers given Thursday to AP in response to questions sent to him the previous week. Al-Hakim is in Iran for cancer treatment.
Al-Hakim and aides to al-Maliki have said the reshuffle plan would involved forming a coalition of the two main Shiite and two main Kurdish parties and the Sunni Iraqi Islamic Party, which are in the current government. That could mean shedding one or more of the other Sunni parties in the coalition and the Shiite party of al-Sadr.
Al-Maliki said "the Iraq that we want is an Iraq for everyone and it is being subjected to serious conspiracies. There are some who are exploiting national causes and working on weakening it (Iraq)."