UNITED NATIONS - Britain and Ghana circulated a draft resolution Wednesday authorizing a 26,000-strong UN-African Union peacekeeping force for Sudan's Darfur region. The measure also threatened to take steps against those obstructing peace efforts.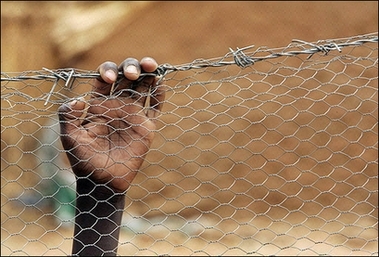 A child's hand grasps barbed wire at Abu Shouk camp, located 7km north-west of Al-Fasher, the capital of North Darfur, in 2006. [AFP]


The draft resolution, obtained by The Associated Press, states that there will be a single chain of command for the "hybrid" force, provided by the United Nations, a move that would clear up the contentious issue of who will be in charge.

UN peacekeeping chief Jean-Marie Guehenno indicated last month that the Sudanese government had accepted that the United Nations would have overall operational control while day-to-day operations would be in the hands of its African commanders. But many Security Council members wanted that spelled out clearly in a resolution.

The draft states that the hybrid operation, to be known as UNAMID, will have up to 19,555 military personnel, including 360 military observers and liaison officers, a civilian component including up to 3,772 international police, and 19 special police units with up to 2,660 officers.

It demands that all parties in Darfur "immediately cease hostilities and attacks" on the AU force, civilians and humanitarian workers. It also emphasizes that "there can be no military solution to the conflict in Darfur and calls upon the government of Sudan and the rebel groups to enter into talks" to reach a political settlement.

The four-year conflict between ethnic African rebels and pro-government janjaweed militia in Sudan's vast western region has killed more than 200,000 people and displaced 2.5 million. A beleaguered 7,000-member African Union force has been unable to stop the fighting.

The UN and Western governments have pressed Sudan since November to accept a UN plan for a joint force to replace the poorly equipped and underfunded AU force.

In April, Sudan agreed to a "heavy support package" to strengthen the AU force, including 3,000 UN troops, police and civilian personnel along with aircraft and other equipment.

The draft resolution calls on all parties to urgently work for the full deployment of the heavy support package and an earlier light support package, and to finalize contributions to the hybrid force within 30 days of the resolution's adoption.

Guehenno has said he hopes the heavy support package can be in Darfur in the coming months so that by the end of year deployment of the hybrid force can start.

The draft resolution asks Secretary-General Ban Ki-moon to report to the council in three months on progress - and obstacles - to deploying the light and heavy support packages, to implementing a UN-Sudan agreement to speed up humanitarian assistance, and to promoting a political settlement, among other efforts.

The draft stresses that "in the event the parties to the conflict in Darfur fail to fulfill their commitments or cooperate fully with this resolution" or previous resolutions "the council, drawing on the above reports, will take further measures."

It does not state what these measures could be, but further measures often refers to sanctions.