The U.S. military expects al Qaeda in Iraq to strike back with "spectacular attacks" after major U.S.-led offensives that have disrupted its activities, a military spokesman said on Wednesday.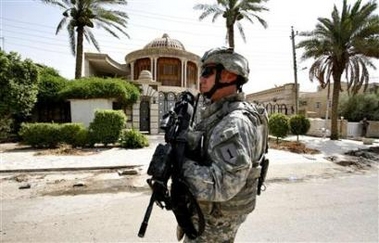 A U.S. soldier from the 2nd battalion, 32nd Field Artillery brigade patrols the street in Yarmuk neighborhood in Baghdad on July 11, 2007. [Reuters]


Brigadier-General Kevin Bergner said 26 leaders of al Qaeda in Iraq had been killed or captured in operations in May and June across the country.

"Over the past two months our collective efforts against the al Qaeda leadership have begun to disrupt their networks and safe havens," Bergner told a news conference.

"We fully expect al Qaeda in Iraq operatives to lash out and stage spectacular attacks to reassert themselves."

In Berlin, German Foreign Minister Frank-Walter Steinmeier said a German woman who was kidnapped by militants in Iraq in February had been freed but her son remained in captivity.

Bergner's comments followed a weekend of bloodshed in Iraq in which nearly 250 people were killed, including 150 in a truck bombing in the northern town of Tuz Khurmato. Iraqi officials have blamed the Sunni Islamist militant group for that attack.

Some U.S. military officials have said they expect militants to strike hard in the next two months before a much-anticipated report on Iraq goes to the U.S. Congress in mid-September.

That report is being prepared by U.S. military commander General David Petraeus and U.S. Ambassador Ryan Crocker and will assess Iraq's security and political progress.

It is being seen as a watershed given the mounting pressure on U.S. President George W. Bush from Democrats and increasingly from senior members in his own Republican Party for a shift in course in Iraq.

A new USA Today/Gallup poll showed more than seven in 10 Americans favor withdrawing nearly all U.S troops by April.

U.S. officials blame al Qaeda for most of the major car bombings in Iraq, saying the group is trying to spark all-out civil war between majority Shi'tes and minority Sunni Arabs.

Bergner was pressed to explain the link between al Qaeda in Iraq and the global network led by Osama bin Laden, given the U.S. military's increasing focus al Qaeda in Iraq as the biggest threat to the country.

"Al Qaeda senior leadership does provide direction to al Qaeda in Iraq. They do establish focus, they do establish and provide resources and support the network," Bergner said.

"Their numbers are relatively small (in Iraq), but their effect is very, very devastating to the Iraqi people because they are employed frequently as these suicide bombers."

CONCERN OVER GREEN ZONE

Bergner also expressed "serious concern" at mortar and rocket attacks on the heavily fortified Green Zone compound that houses the Iraqi government and the U.S. embassy.

A barrage on Tuesday killed three people including a U.S. military service member, the U.S. embassy said.

Iraqi militants had threatened to kill the German woman and her son, seized from their home in western Baghdad on February 6, unless Germany withdrew its troops from Afghanistan.

"After 155 days, Hannelore Krause's captivity is over. She has been free since yesterday afternoon," Foreign Minister Steinmeier told reporters in Berlin, declining to talk about the circumstances of her release.

In April, the Arrows of Righteousness group posted a video on the Internet showing Krause urging Germans to press their government to heed the demands of the militants.

Krause is married to an Iraqi physician and moved to Iraq 40 years ago. Her son, Sinan, is reported to be in his mid-20s and has dual German-Iraqi citizenship.

Tens of thousands of U.S. troops are engaged in a series of offensives in Iraq that aim to deny al Qaeda the opportunity to launch big car bomb attacks, especially in Baghdad.

Bush has sent 28,000 additional troops to Iraq, bringing total military personnel to 157,000.

On Tuesday the president brushed aside the criticism of fellow Republicans over Iraq and demanded the U.S. Congress allow his troop buildup more time to work.