ISLAMABAD, Pakistan - Pakistani commandos battled die-hard Islamic militants holed up in a radical mosque Tuesday, killing an extremist cleric and dozens of his followers in a daylong assault that ignited fiery protests and calls for revenge by Islamic extremists.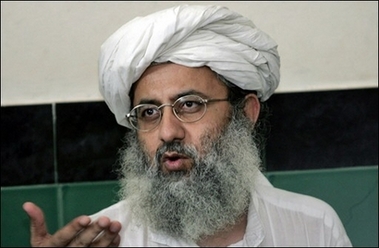 Abdul Rashid Ghazi, deputy head of the Red Mosque, announces the release of Chinese hostages during a press conference in Islamabad. [Agencies]


The army said more than 50 militants and eight soldiers died during fighting that began before dawn, and gunfire and explosions still could be heard late into the night. Officials said troops were trying to clear militants from residential quarters next to one of the compound's two schools.

Among the dead was pro-Taliban cleric Abdul Rashid Ghazi, who had been the public face of a campaign by the Red Mosque leaders to use their students to impose puritanical Islamic rule in the capital.

Ghazi's body was found in the basement of the women's religious school in the compound after a fierce gunbattle, according to a senior Interior Ministry official, Brig. Javed Iqbal Cheema.

Several security officials said Ghazi had been hit by two bullets and gave no response when ordered to surrender. Soldiers then fired another volley and found him dead, said the officials, who spoke on condition of anonymity because they were not authorized to talk to reporters.

Elite troops attacked the mosque after a nearly weeklong siege failed to induce militants to surrender. Ghazi's older brother, Abdul Aziz, the mosque leader, was captured last week trying to slip out dressed in a woman's burqa and high heels as hundreds of people left the compound.

Officials declined to estimate how many people were still inside Tuesday night, but a local relief agency said the army asked for 400 white funeral shrouds.

The government had sought to avoid a battle, fearing heavy bloodshed would worsen public discontent with President Gen. Pervez Musharraf. He is opposed by Islamic hard-liners for allying with the US, and angered many Pakistanis by trying to oust the chief justice.

Even as the fighting raged, more than 100 armed tribesmen and religious students chanted for the death of Musharraf and briefly blocked a road near the northwestern town of Batagram, police said. Some 500 students rallied in the eastern city of Multan, chanting "Down with Musharraf" and burning tires on a main road.

An opposition coalition of hard-line Islamic parties, Mutahida Majlis-e-Amal, announced three days of mourning starting Wednesday in the North West Frontier Province to protest the attack.

The anti-vice campaign by the mosque that preceded the siege embarrassed Musharraf and underlined his administration's failure to control extremist religious schools. Militants used the mosque as a base to send out radicalized students to enforce their version of Islamic morality, including abducting alleged prostitutes and trying to "re-educate" them at the mosque.

Ghazi's killing could provoke a "violent outburst" in the country, said Rasul Bakhsh Rais, a political scientist at the Lahore University of Management Sciences.

Benazir Bhutto, a former prime minister long regarded as Musharraf's chief political rival, agreed that might happen, but said the president made the right decision in assailing the mosque.

"I'm glad there was no cease-fire with the militants in the mosque because cease-fires simply embolden the militants," she told Sky TV from exile in Britain. "There will be a backlash, but at some time we have to stop appeasing the militants. We can't afford to keep appeasing them."

The United States backed Pakistan's decision to storm the mosque, saying the militants were given many warnings.

"The government of Pakistan has proceeded in a responsible way," State Department spokesman Tom Casey said. "All governments have a responsibility to preserve order."

President Bush later called Musharraf an important ally in the fight with extremists and said he was a partner in promoting democracy. "I like him and I appreciate him," Bush said during a visit to Cleveland.

At least 80 people had been killed around the mosque since July 3, when followers of the mosque's militant clerics fought gunbattles in the street with security forces. Troops surrounded the compound the next day.

It wasn't clear how many people remained in the mosque compound, or whether any were being held as human shields.

Officials said earlier that the militants had an unknown number of hostages. But last week, some of those who left the mosque, including young women seemingly as radicalized as the men, said their colleagues stayed of their own free will and were prepared to die.

| | | |
| --- | --- | --- |
| 1 | 2 | |