LONDON - Police thwarted an apparent terror attack early Friday after an ambulance crew reported seeing a smoking car parked near Piccadilly Circus that turned out to be packed with gasoline, nails, gas cylinders, and a detonator.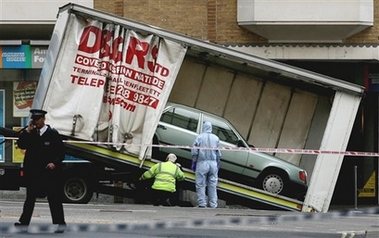 A Mercedes car is loaded onto a removals truck in Haymarket Street, near Piccadilly, central London which contained a suspected car bomb Friday, June 29, 2007. British police defused a bomb found in a parked car in central London on Friday, and the new government called an emergency meeting of senior security chiefs to investigate what many feared could have been a planned terror attack in the capital. [AP]
The explosives - safely defused by a bomb squad - were powerful enough to have caused "significant injury or loss of life" - possibly killing hundreds, British anti-terror police chief Peter Clarke said.
"Forensic staff are still examining the device, but once we know more about it, we'll know more about what type of individuals are behind this," a British security official told The Associated Press, speaking on condition of anonymity because of the sensitivity of the information.
Officers were called to The Haymarket, near Piccadilly Circus, after an ambulance crew - responding to a call just before 1:30 a.m. about an injury at a nearby nightclub - noticed smoke coming from the car, Clarke said.
A bomb squad was called to the scene, and manually disabled the bomb.
Early photographs of the silver Mercedes showed a canister, bearing the words "patio gas," indicating it was propane gas, next to the car. The back door was open with blankets spilling out.
Clarke said police would examine footage from closed-circuit TV cameras in the area.
The area - packed with restaurants, bars, a cinema complex and theaters - was busy and buzzing at that hour. Haymarket links Piccadilly Circus to the north to the Pall Mall at its southern end.
The security official said Britain's domestic spy agency MI5 also would examine possible connections between the bomb attempt and at least two similar foiled plots - including a planned attack on a West End nightclub in 2004 and a thwarted attempt to use limousines packed with gas canisters to attack targets in London and New York.
Prime Minister Gordon Brown, who took office on Wednesday, said the incident was a reminder that Britain faces a serious and continuous threat of terrorist attacks and that people should be alert.
"I will stress to the Cabinet that the vigilance must be maintained over the next few days," Brown said.
The attempted bombing comes just days after Brown succeeded Tony Blair as prime minister, and a week before the second anniversary of the deadly July 7 London bombings.