A truck bomb struck a Shiite mosque Tuesday in central Baghdad, killing 87 people and wounding more than 200, even as about 10,000 U.S. soldiers northeast of the capital used heavily armored Stryker and Bradley fighting vehicles to battle their way into an al-Qaida sanctuary.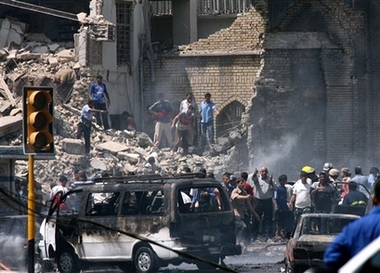 Iraqis gather at the damaged Khillani mosque, a main Shiite mosque in central Baghdad, Iraq, Tuesday, June 19, 2007. A truck bomb struck a Shiite mosque Tuesday in central Baghdad, killing 75 people and wounding more than 200, even as about 10,000 U.S. soldiers northeast of the capital used heavily armored Stryker and Bradley fighting vehicles to battle their way into an al-Qaida sanctuary. [AP]


The troops, under cover of attack helicopters, killed at least 22 insurgents in the offensive, the U.S. military said.
The thunderous explosion at the Khulani mosque in the capital's busy commercial area of Sinak sent smoke billowing over concrete buildings, nearly a week after a bombing brought down the twin minarets of a revered Shiite shrine in the northern city of Samarra and two days after officials lifted a curfew aimed at preventing retaliatory violence from that attack.
Gunfire erupted after the blast, which police said occurred in a parking lot near the mosque, causing the outer wall and a building just inside it to crumble.
Police and hospital officials, speaking on condition of anonymity because they feared retribution, said at least 87 people were killed and 218 were wounded, adding that the toll could rise as bodies were pulled from the debris.
One officer said the explosives-packed truck was loaded with fans and air coolers to avoid arousing the suspicions of security forces guarding the surrounding area, which is full of shops selling electrical appliances.
Six of those killed lived in a house behind the mosque that also collapsed, the officer said, adding that 20 cars were burned and 25 shops were damaged.
The mosque's imam, Sheik Saleh al-Haidari, said it was a truck bomb and the explosion hit worshippers as they left afternoon prayers.
"This attack was planned and carried out by sick souls, damaging the mosque's outer wall and collapsing my office and the room above it," al-Haidari told The Associated Press by telephone.
"There are number of bodies being pulled from the rubble and a number of worshippers were killed or injured," he said, adding that he was not inside the mosque when the blast occurred.
The Khulani mosque is named after a revered Shiite figure who, according to Shiite tradition, was one of four deputies anointed by the Imam Mohammed al-Mahdi, who disappeared in the 9th century and will return to restore justice to humanity.
AP Television News video showed a huge pile of rubble where the wall used to be, but its turquoise dome was intact. The Imam Ali hospital in the Shiite district of Sadr City was packed with victims, many badly burned.
Karim Abdullah, the 35-year-old owner of a clothing store, said he was making his way by motorcycle to pray at the mosque when the explosion forced him to pull over.
"I stopped in shock as I saw the smoke and people on the ground. I saw two or three men in flames as they were getting out of their car," he added.
The raids, dubbed "Operation Arrowhead Ripper," took place in Baqouba, the capital of Diyala province, and involved air assaults under the cover of darkness, the military said. The operation was still in its opening stages, it added.
The commander of Iraqi military operations in Diyala, Maj. Gen. Abdul-Karim al-Rubaie, said handcuffs, swords and electricity cables ¡ª apparently used as torture implements ¡ª had been seized from militant safe houses in the area.
The operation was part of new U.S. and Iraqi attacks on Baghdad's northern and southern flanks, which military officials said were aimed at clearing out Sunni insurgents, al-Qaida fighters and Shiite militiamen who had fled the capital and Anbar during a four-month-old security operation.
A top U.S. military official said American forces were taking advantage of the arrival of the final brigade of 30,000 additional U.S. troops to open the concerted attacks.
"We are going into the areas that have been sanctuaries of al-Qaida and other extremists to take them on and weed them out, to help get the areas clear and to really take on al-Qaida," the senior official said on condition of anonymity because he was not authorized to speak about the operation. "Those are areas in the belts around Baghdad, some parts in Anbar province and specifically Diyala province."
The hard-line Sunni Association of Muslim Scholars denounced the joint operations in Diyala, calling them "barbaric acts" and promising they "will not stop the people from persisting in their efforts to gain their liberty, unity and independence."
Al-Qaida has proven to be an extremely agile foe for U.S. and Iraqi forces, as shown by its ability to transfer major operations to Baqouba from Anbar province, the sprawling desert region in western Iraq. There is no guarantee that driving the organization out of current sanctuaries would prevent it from migrating to other regions to continue the fight.
In recent months, the verdant orange and palm groves of Diyala have become one of the most fiercely contested regions in Iraq. The province is a tangle of Shiite and Sunni villages that has played into the hands of al-Qaida and allied militants who have melted into the tense region and sought to inflame existing sectarian troubles.
Al-Qaida has conducted public killings in the Baqouba main square and otherwise sought to enforce an extreme Taliban-style Islamic code. The terror organization's actions in the province have caused some Sunni militants, al-Qaida's natural allies, to turn their guns on the group with U.S. assistance and blessing. Some militant Shiites are likewise joining government forces in a bid to oust the foreign fighters and Muslim extremists.
Separately, the U.S. military announced the death of an American soldier in Baghdad. The soldier was killed by small arms fire during combat in an eastern section of the capital, a military statement said. No other soldiers were wounded in the attack, which took place Monday, it said.
The death brought to at least 3,528 the number of U.S. military personnel who have died since the beginning of the Iraq war in March 2003, according to an AP count. The figure includes seven military civilians. At least 2,889 died as a result of hostile action, according to the military's numbers.
In southern Iraq, police and hospital officials said the death toll reached 30 in clashes that continued into a second day between Mahdi Army fighters and Iraqi security forces in Nasiriyah, about 200 miles southeast of Baghdad.
Some 150 people were wounded, authorities said. The officials, who declined to be identified because they feared retribution, said most of the casualties were police or militiamen. A delegation from radical Shiite cleric Muqtada al-Sadr's office arrived in the city to try to end the fighting, according to the city council.
A curfew was imposed Monday on Nasiriyah and remained in effect.
Iranian-made rockets were seized in raids in central Nasiriyah, police said.
In other violence reported by police, a roadside bomb killed the head of a Shiite tribe and two people traveling with him near Hillah, about 60 miles south of Baghdad.
A roadside bomb missed a police patrol but hit two civilian cars in the Shiite neighborhood of Zafaraniyah in southeastern Baghdad, killing two people and wounding five.