Funds reach N.Korean account
(AP)
Updated: 2007-06-19 20:07
TOKYO - The chief US envoy to North Korean nuclear talks called Tuesday for rapid progress in shutting down Pyongyang's nuclear reactor, saying the country already had received millions of dollars in disputed funds.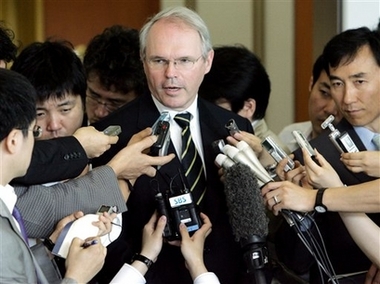 U.S. Assistant Secretary of State Christopher Hill talks to the media after a meeting with South Korean Deputy Foreign Minister Shin Yoon-joe at the Foreign Ministry in Seoul, South Korea, Tuesday, June 19, 2007. A stalled process to dismantle Pyongyang's nuclear programs could resume within weeks now that a dispute over the transfer of North Korean funds is over, Hill said Monday. [AP]

The process of persuading North Korea to give up its nuclear program was stalled for months by a dispute over about $25 million in North Korean funds that were frozen in a Macau bank backlisted by the United States.

Top US nuclear envoy Christopher Hill said the disputed funds had now reached the North Koreans.

"My understanding is that today, it was deposited in a North Korean account in Russia," Hill told reporters on his arrival in Tokyo.
Most Commented/Read Stories in 48 Hours