LONDON - A team of international investigators infiltrated an Internet chat room used by pedophiles who streamed live videos of children being raped, rescuing 31 children and identifying more than 700 suspects worldwide.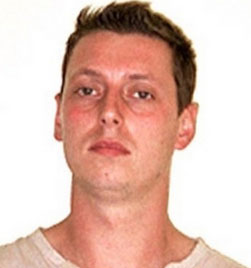 This is an image released by Britain's Suffolk Police Constabulary on Monday June 18, 2007 of Timothy David Martyn Cox, who was convicted of possessing and distributing indecent images and was handed an indeterminate jail sentence Monday at Ipswich Crown Court, in eastern England. [AP]

Undercover officers in Britain, the U.S., Canada and Australia busted up the pedophile ring using surveillance techniques more commonly associated with fighting terrorism and organized crime.

The chat room, which was called "Kids the Light of Our Lives," featured images, including live videos, of children ! some only months old ! being subjected to horrific sexual abuse, said Jim Gamble, chief executive of Britain's Child Exploitation and Online Protection Center.

"You could go and if you were in the club, arrange a time and a place when online you could view a child being raped and brutalized in real time," he said.

Police analyzed images and videos traded by the chat room's members for the smallest clues that could help them identify, locate and rescue the victims.

More than 15 children were found in Britain, Gamble said, declining to give further details. A Canadian official said authorities there arrested 24 Canadians and rescued seven Canadian children as part of the probe since late 2005.

Describing it as "a massive leap forward," Gamble said the investigation involved agencies from 35 countries. Investigators made the case public after the sentencing of ringleader Timothy David Martyn Cox on Monday.

Cox, 27, was given an indeterminate jail sentence, meaning he will remain in prison until authorities decide he is no longer a threat to children. One of his accomplices, Gordon Mackintosh, has pleaded guilty to 27 charges of making, possessing and distributing indecent images and videos. He is awaiting sentencing.

The probe began in Canada in the spring of 2005, then expanded internationally in August 2006 after Canadian officials tipped off authorities in London that they believed the chat room's host was based in Britain.

"Every arrest we make we seize computers and information," said Detective Sgt. Kim Scanlan, of the Toronto police sex crimes unit.

Working with their Canadian counterparts, British police infiltrated the chat room posing as contributors. They traced the host to a farmhouse in Buxhall, 90 miles northeast of London, where Cox lived with his parents and sister. He had operated the chat room out of his bedroom while working for the family's microbrewery.

The evidence police collected in the probe documented shocking abuse, Gamble said.

"(This was) not sharing a historic video ... but a child brought into a room ! on Web cam ! and brutalized for the pleasure of some deviant individual who might not even be in the same country as that child," Gamble said.

Cox had been a member of a U.S.-based online pedophile ring shut down by U.S. authorities in March 2006, Gamble said. His online identity, "Son of God," was believed to be a reference to the host of the "Kiddypics" and "Kiddyvids" site in the U.S. case who adopted the username "G.O.D."

Police arrested Cox on Sept. 28, charging him with nine offenses related to possessing and distributing indecent images of children. Forensic teams examining Cox's computer found 75,960 indecent and explicit images and evidence that he had supplied 11,491 images to other site users.

But as Cox was taken from the house in handcuffs, police stepped up their operation. British and Canadian officers immediately assumed Cox's identity and secretly ran the site for 10 days before shutting it down ! gathering evidence on the chat room's hundreds of members. Police at no point distributed illegal images, Gamble said.

Weeks later, British police saw the chat room had been resurrected. Working with Canadian, Australian and U.S. authorities in December, they again infiltrated the chat room, working around the clock. Authorities traced the new host to an apartment in Welwyn Garden City, 30 miles north of London, belonging to the 33-year-old Mackintosh, a manager at a video streaming company owned by the Italian Internet company Tiscali.

After he was arrested, police took over his identity and continued to run the chat room, collecting more evidence. Mackintosh told investigators that every few months he was overcome by guilt and would delete all his files, but he was addicted and would start downloading again, Gamble said. He had 5,167 indecent and explicit images and 392 indecent movie files on his computer when he was arrested.

U.S. Immigration and Customs Enforcement declined to comment because their investigation is continuing in at least 12 states, which were not identified. Police in Germany are also investigating two men in connection with the ring, the country's Federal Crime Office said.

It was unclear whether any of the rescued children had been reported missing, but authorities said the investigation was not linked to the widely publicized disappearance of Madeleine McCann, a 4-year-old British girl who vanished nearly two months ago in southern Portugal.

Gamble said he hoped the 10-month operation into the ring would act as a powerful warning.

"Anyone who even thinks about going online to share an image, to view an image, to arrange access to a child or to share live access to a child is now taking a hell of a chance," Gamble said.