KABUL, Afghanistan - The deadliest insurgent attack since the US-led invasion of Afghanistan in 2001 destroyed a bus full of police instructors at Kabul's busiest transportation hub on Sunday, killing 35 people and wounding 52, officials said.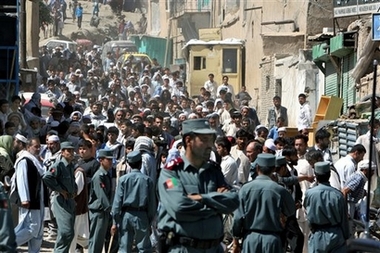 Afghans are kept from the bomb blast site by police in Kabul, Afghanistan on Sunday, June 17, 2007. [AP]


The enormous suicide blast, which raised the specter of an increase in Iraq-style bombings with heavy casualties, was at least the fourth attack against a bus carrying Afghan police or army soldiers in Kabul in the last year. The blast sheared off the bus' metal sidings and roof, leaving a charred frame.

"Never in my life have I heard such a sound," said Ali Jawad, a 48-year-old who was selling phone cards nearby. "A big fireball followed. I saw blood and a decapitated man thrown out of the bus."

The explosion was the fifth suicide attack in Afghanistan in three days, part of a sharp spike in violence around the country. In the south, in Kandahar province, a roadside bomb killed three members of the US-led coalition and an Afghan interpreter. The soldiers' nationalities were not released, but most in the coalition are American.

Condemning the Kabul attack, President Hamid Karzai said the "enemies of Afghanistan" were trying to stop the development of Afghan security forces, a key component in the US- NATO strategy of handing over security responsibilities to the Afghan government one day, allowing Western forces to leave.

A self-described Taliban spokesman, Qari Yousef Ahmadi, said a Taliban suicide bomber named Mullah Asim Abdul Rahman caused the blast. Ahmadi called an Associated Press reporter from an undisclosed location. His claim could not be verified.

Zemeri Bashary, the spokesman for the Interior Ministry, said late Sunday that 35 were killed and 52 wounded in the blast. Karzai's office said 22 police instructors died, indicating that 13 of the dead were civilians.

At least one person survived the 8:10 a.m. bus blast. Nasir Ahmad, 22, a janitor at the police training academy, was sitting in the back of the bus when the bomb exploded. Speaking from a hospital bed where he was recovering from wounds to his face and hands, he said: "There were between 30 to 40 police instructors in the bus."

It was the only full sentence he managed to utter before stopping from exhaustion.

At the entrance to the hospital, a blue plastic trash can overflowed with the bloodied shoes and sandals of victims.

Interior Minister Zarar Ahmad Muqbal said initial indications were that a suicide bomber boarded the bus as it stopped to pick up police instructors at an open-air bus station in central Kabul. Such a suicide attack would represent a sizable jump in lethality compared to more typical Taliban suicide bombings, which often kill far fewer people.

Maj. John Thomas, a spokesman for NATO's International Security Assistance Force, said it was too early to tell if the attack was a sign of more lethal bombings to come, or heavier involvement by al-Qaida. NATO commanders have long predicted a rise in suicide attacks this year.

A civilian bus was driving just in front of the police vehicle and was damaged when the bomb went off. A police officer at the scene said the civilian bus' position likely prevented more civilian casualties.

Afghan government officials, police and army soldiers are commonly targeted by insurgents trying to bring down Karzai's US-backed government, and buses carrying Afghan police and army soldiers are common targets.

In May, a remote-control bomb hit an Afghan army bus in Kabul, killing the driver and wounding 29 people. In October, a bomb on a bicycle exploded as a police bus went by in Kabul, wounding 11. Last July, a remote-controlled bomb blew up near an Afghan army bus in downtown Kabul, wounding 39 people on board.

Police seem to be taking notice, and one officer suggested Afghans are beginning to equate police with danger rather than safety.

"We are afraid now that the police are increasingly coming under attack," said Allah Bubani, a 22-year-old recent graduate of the police training academy who said he likely knew some of the instructors killed in the attack. "Nowadays the ordinary people are scared of the police, because they fear an attack on the force would also harm them."

At least 307 Afghan police, army or intelligence personnel have been killed in violence so far this year through June 15, according to an AP tally of figures from the US, UN, NATO and Afghan authorities.

The European Union on Sunday took control from Germany of the Western mission to train Afghan police. The EU, which will have 200 police, law enforcement and justice experts at the Kabul training center, said the attack "does nothing to diminish our determination to maintain our support for the construction of the Afghan police force."

Sunday's death toll exceeded that of a September 2002 Kabul car bombing that killed 30 people and wounded 167.

Insurgency-related violence has killed more than 2,400 people in Afghanistan this year, mostly insurgents, according to an AP count based on figures from US, NATO, UN and Afghan officials.

Dr. Asadullah, a health worker at Jamhuriat hospital, said two Pakistanis, two Japanese and one Korean national were among those wounded Sunday.

At one point Sunday, the Interior Minister and a hospital director revised the initial death toll of 35 down to 24, but a government official in the Health Ministry speaking on condition he not be identified because of the sensitivity of the matter said the government may have been trying to downplay the severity of the attack.