Olmert appoints new defense minister

Israeli Defense Minister Amir Peretz on Friday resigned from his position, after the government approved the appointment of newly-elected Labor Party Chairman Ehud Barak as his replacement, local media said.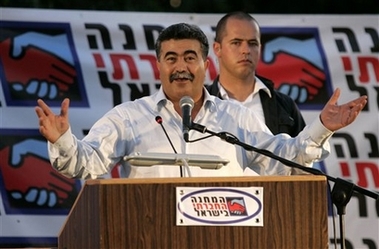 Israeli defense minister and Labor Party leader Amir Peretz gestures as he talks to his supporters during a party gathering at the Labor party headquarters in Tel Aviv, June 3, 2007.[AP/File Photo]




There had been speculation that he would stay on in the government. However, Peretz has informed Prime Minister Ehud Olmert on Friday that he does not intend to stay in the government as a minister without portfolio, as which Olmert is expected to appoint him, a Channel 10 TV report said.

Peretz said in the wake of the Winograd Committee's partial report on the Second Lebanon War that he would resign as defense minister following the Labor Party primaries.

Olmert decided to appoint Barak as defense minister in his meeting with Barak Friday morning. Olmert has called some of his cabinet ministers for their agreement over this appointment.

Barak responded to Olmert's request, and is expected to enter his new role upon being sworn into Knesset (Parliament) on Monday.

The former prime minister Barak defeated rival Knesset member Ami Ayalon to capture the chairmanship of the Labor Party in a hard-fought primary.

Olmert will meet Barak again at the end of next week, after his return from the United States. Upon returning, the prime minister also plans to appoint a finance minister and a Negev and Galilee development minister, to replace president-elect Shimon Peres. Both these portfolios are expected to remain in Kadima's hands.