An explosion rocked Beirut's popular sea-front area Wednesday, killing at least 10 people, including a vocal, anti-Syrian lawmaker who was close to slain former Prime Minister Rafik Hariri, security officials said.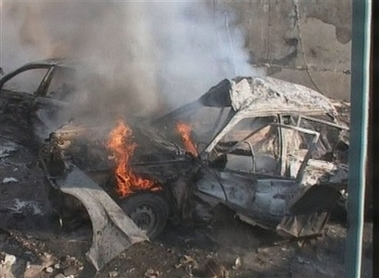 A burning vehicle at the scene of an explosion in Beirut, Wednesday, June 13, 2007 in this image made from television. An explosion, apparently from a bomb-rigged car, rocked Beirut's seafront Wednesday, killing an anti-Syrian lawmaker and three others, a TV station aligned with anti-Syrian parties reported. Future TV said lawmaker Walid Eido, his son and two bodyguards were killed. Security officials had reported that the explosion killed four people and wounded 10 others. [AP]


The explosion, apparently from a bomb-rigged car, killed Walid Eido, his son and two bodyguards, the officials said on condition of anonymity because they were not authorized to speak to the media. Six others were also killed and at least 11 were wounded, the officials said.
Eido, 65, was an ally of Saad Hariri, the leader of the parliamentary majority and son of Rafik Hariri, who was assassinated on Feb. 14, 2005, in a suicide truck bombing in Beirut. Eido is the seventh opponent of Damascus to be killed in two years in this conflict-ridden country.
The explosion occurred less than a mile from the site of blast that killed Rafik Hariri and 22 others.
A car was in flames and black smoke was seen rising from a narrow street off the main waterfront in Manara, which is in the Muslim sector of the capital. The Lebanese Broadcasting Corp. TV station said the explosion came from a bomb-rigged car, a method that has been used to assassinate opponents of Syria in the past.
Two bodies covered with plastic bags lay in a smoldering car. The explosion shattered apartment windows, knocked down walls and scattered debris on top of parked cars in the area, which is near an amusement park, a military club and popular beaches.
The U.N. Security Council has ordered the creation of a tribunal to prosecute those responsible for Hariri's assassination, despite virulent opposition from Syrian-backed groups in Lebanon.
Hariri's killing sparked huge protests against Syria, which was widely seen as culpable. Syria denied involvement but was forced to withdraw its troops from Lebanon, ending a 29-year presence.
The issue of the tribunal has sharply polarized the country. It is at the core of a deep political crisis between the U.S.-backed government led by Prime Minister Fuad Saniora and the Syrian-backed opposition led by Hezbollah. The tensions have taken a more sectarian tone in recent months, with 11 people killed in clashes.
In Washington, a spokesman for President Bush's National Security Council said the U.S. "deplores this latest attack in Beirut" that killed Eido and his son.
"We stand with the people of Lebanon and Prime Minister Saniora's government as they battle extremists who are trying to derail Lebanon's march to peace, prosperity and a lasting democracy," Gordon Johndroe said.
Eido, who was known to frequent Manara in the afternoon to play cards with friends, was a vocal opponent of recent Hezbollah-led protests and sit-ins outside Saniora's office aimed at forcing him to step down. He has called the encampment in downtown Beirut an "occupation."
Eido also was among the 70 legislators from the pro-Western majority that petitioned the United Nations along with the government to impose the Hariri tribunal.
Six other explosions have hit Beirut and its suburbs in the past three weeks, killing at least two people, as Lebanese troops battle Islamic militants in a Palestinian refugee camp in the northern part of the country.
The Lebanese army clashed with Fatah Islam militants in the Nahr el-Bared camp again Wednesday, and confirmed that a soldier had been killed the day before, bringing the number of troops killed since the fighting began to 61.
At least 60 Fatah Islam militants and 20 civilians have also died.
The New York-based Human Rights Watch criticized the military Wednesday for allegedly detaining and physically assaulting some Palestinian men fleeing the fighting at the besieged camp.
Sarah Leah Whitson, Middle East director of Human Rights Watch, said that while the Lebanese troops may question Palestinians leaving Nahr el-Bared about the Fatah Islam militants, "resorting to physical abuse is clearly against Lebanese law and international human rights standards."
Lebanese officials and the military did not immediately comment the allegations.
Most of the camp's 31,000 residents have fled since the violence broke out on May 20. But the International Committee of the Red Cross said that between 3,000 and 6,000 civilians remain behind.