TEHRAN - Iran on Saturday expressed regret over a declaration of the Group of Eight (G8) industrialized nations urging Tehran to suspend all enrichment-related and reprocessing activities.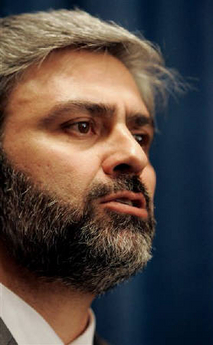 Iran's Foreign Ministry spokesman Mohammad Ali Hosseini speaks to journalists during a news conference in Tehran in this October 8, 2006 file photo. Iran on Saturday brushed aside warnings by G8 leaders that it would face further U.N. sanctions if it failed to halt uranium enrichment work.[Reuters]
In a press release, Foreign Ministry spokesman Mohammad-Ali Hosseini said that the G8 industrialized nations have ignored Iran's inalienable right to enjoy nuclear technology and use it in a peaceful way.
"While the Islamic Republic of Iran have had a close cooperation with all regional and international organizations...unfortunately, the G8 summit in its declaration has accused Iran of being inattentive towards international community's demands," Hosseini said.
In the statement issued at the conclusion of the three-day G8 summit at the German Baltic resort of Heiligendamm, the G8 said it is still committed to resolving the Iranian nuclear issue by diplomatic means.
However, the G8 said that it will "support adopting further measures, should Iran refuse to comply with its obligations" under UN Security Council resolutions 1696, 1737 and 1747.
Hosseini lashed out at the G8 threat of imposing more sanctions against the country, saying that Iran's principled policy is to defend its "indisputable rights."
"Imposing sanctions against Iran and trying to make it isolated by certain powers will never affect the will of Iran's government and nation to demand its indisputable rights," Hosseini said.
"Bringing up Iran's nuclear issue in the UN Security Council is clearly contradictory to international community demands," he added.
The spokesman, meanwhile, expressed that Iran will welcome diplomatic approaches, especially some negotiation mechanisms, to answer questions and possible ambiguities concerning its nuclear program.
"Iran is ready to participate in any kind of negotiations upon good will and without illogical and unilateral preconditions," he said.