BAGHDAD - A suspected al-Qaida suicide bomber rammed a speeding gasoline truck into an Iraqi army checkpoint outside the capital on Saturday, killing at least 14 soldiers as militants hammered the country's shaky security forces.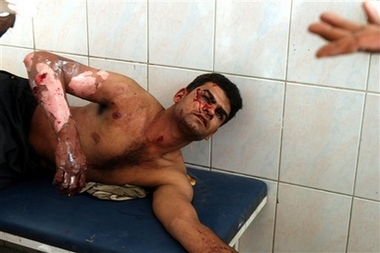 Iraqi policeman lies in imam Ali hospital in the Shiite enclave of Sadr City in Baghdad, Iraq, Saturday, June 9, 2007. [AP]


The terror campaign against Iraqi troops and police appears designed to blunt US progress in creating a stable local force so the Americans can go home. US military officers began noticing the new pattern of attacks last month.

The focus on Iraqi forces was detailed to Maj. Gen. Joseph F. Fil Jr., commander of the 1st Cavalry Division which runs the nearly four-month-old security operation in Baghdad, during a recent visit to the capital's Karradah district.

Lt. Col. Troy D. Perry, the battalion commander in the area, told Fil there was an increasing pattern of bombers allowing US patrols to pass hidden roadside bombs that were then detonated a short time later as Iraqi forces drove by.

Fil and Perry speculated al-Qaida was focusing on Iraqi forces to unnerve the soldiers and police who are working with US forces to clamp off violence in the capital.

"Al-Qaida is the biggest problem you've got right now," Fil said in a brief meeting with Iraqi army 1st Lt. Ziad Tariq, at an Iraqi base adjacent to the US joint security station in Karradah late last month.

In Iraq's first confirmation of Turkey's cross-border shelling of Kurdish regions in the north of the country, the Foreign Ministry summoned the second-ranking Turkish diplomat to protest and demand an end to the attacks.

The shelling served to "undermine confidence between the two nations and negatively affect their friendship," according to an account posted on the Foreign Ministry Web site.

Turkey has massed troops along the Iraq border and there has been scattered shelling of suspected separatist enclaves in Iraq's Kurdish-controlled regions in the north. There were unconfirmed and conflicting reports that Turkish soldiers had crossed the border in "hot pursuit" of Kurdish rebels late last week. The Kurdish fighters have waged a bloody secessionist campaign in southeastern Turkey since 1984.

Turkish politicians and members of the powerful military are debating whether to launch a major incursion against separatist Kurds who cross into southeastern Turkey from bases in Iraq. A Turkish push into Iraq is fraught with the danger of igniting a wider conflict that could draw in Iraqi Kurds and the United States.

A Turkish Foreign Ministry official, speaking on condition of anonymity because he was not authorized to release the information, confirmed the meeting between Iraq's Deputy Foreign Minister Mohammed al-Haj Mahmoud and Turkish charge d'affaires Ahmet Yazal, but denied it was a "protest."

In southern Iraq, an apparent rocket attack at the US-run Camp Bucca military prison killed at least six detainees and wounded 50, the military said. No American casualties were reported.

The US military oversees more than 20,000 inmates at Camp Bucca in southern Iraq and Camp Cropper, near the Baghdad airport. Military officials refuse to give a breakdown of how many prisoners are at each facility but say the majority are at Camp Bucca.

The suicide tank truck driver killed the 14 Iraqi soldiers near the gate of the army unit's headquarters near Iskandariyah, 30 miles south of the capital, provincial police spokesman Capt. Muthanna Khalid said. Twenty-nine others were wounded.

Iraqi soldiers opened fire on the speeding truck but were not able to stop it until it reached the unit headquarters and the driver detonated his explosives.

Amir al-Saadi, a 40-year-old vendor who works nearby, said the explosion flattened the army unit's headquarters building.

"The explosion was huge and caused the building to collapse," he said. "Police, soldiers and residents are searching for bodies and people who are still alive but buried under the rubble."

In Baghdad, a parked car bomb struck a convoy of Iraqi police commandos, killing one of them and a pedestrian and wounding seven other people, and gunmen elsewhere killed one policeman and wounded another while they were on a foot patrol.

| | | |
| --- | --- | --- |
| 1 | 2 | |