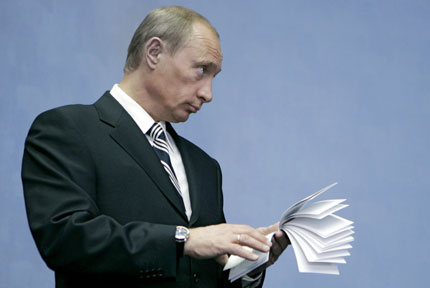 Russia's President Vladimir Putin goes through papers at the International Economic Forum in St. Petersburg, June 9, 2007. The St. Petersburg International Economic Forum, drawing more than 6,000 business leaders, diplomats and media from over 60 countries, is intended to showcase Russia as a dynamic location for trade and investment after months of political tension between Moscow and the West. [Reuters]


MOSCOW - Vladimir Putin, whose term as Russian president ends next year, does not rule out running again in 2012, a leading Russian daily reported on Saturday.

The future plans of the 54-year-old Putin, by far Russia's most powerful and popular politician, are the hottest topic of the Russian presidential succession.

The constitution limits him to two successive four-year terms in power, though further terms are possible after a break.

Putin has said he will not change the constitution to get a third consecutive term and has already made clear he will not retire altogether after the March 2008 election.

But he has not yet given any details about what he will do.

Asked by reporters in the German town of Heiligendamm, where leaders of the Group of Eight industrial nations met on Friday, whether he could run again in 2012, Putin replied: "In theory it's possible and the constitution doesn't forbid it."

"However, there's still a long way to go and I haven't even started thinking about that," he added, according to the Kommersant daily.

Putin has presided over strong economic growth and a revival of Russian influence abroad, which have made him the country's most popular politician. His political reforms have also heavily concentrated power in the presidency.

Putin's allies and many foreign investors have expressed worries that his departure could destabilize Russia, even though there is little doubt the Kremlin leader's job will go to a still unidentified handpicked successor.

A possible return to power in the 2012 election has been one of the options discussed among Russia watchers.

Last week Putin spoke in favor of giving presidents five- or seven-year terms instead of the existing four years. His remarks were enthusiastically supported by parliament, which is dominated by pro-Kremlin parties.

Sergei Mironov -- the head of the upper house, which has a leading role in initiating changes to the constitution -- has said such a change could not take effect until the 2012 election.

Many analysts saw the remarks by Mironov, one of Putin's close allies, as a sign that the president elected in March could be a transitional figure whose main mission would be to allow Putin to reset his political counter and stage a comeback.