Russian President Vladimir Putin said Friday that U.S. missile defense interceptors could be located in Turkey, or even Iraq or on sea platforms, offering yet another alternative to an American plan for a missile shield in eastern Europe.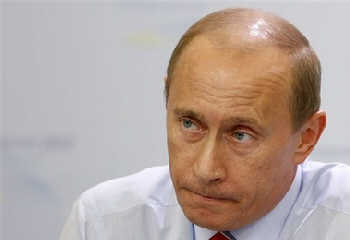 Russian President Vladimir Putin listens to a question during a press conference at the end of the G8 Summit in Heiligendamm, Germany, Friday, June 8, 2007. [AP]


"They could be placed in the south, in U.S. NATO allies such as Turkey, or even Iraq," Putin said at a news conference after the close of the Group of Eight summit. "They could also be placed on sea platforms."
Putin's proposal on missile defense interceptors followed his surprise suggestion Thursday to President Bush to share use of the huge Soviet-era radar at Gabala in northeast Azerbaijan, now leased by Russia.
Secretary of State Condoleezza Rice said Putin's offer of the radar in Azerbaijan caught the Bush administration off guard, but that it was worth looking into even while missile defense negotiations with Poland and the Czech Republic continue.
"One does not choose sites for missile defense out of the blue," she told The Associated Press. "It's geometry and geography as to how you intercept a missile."
The latest proposals came after Putin spent weeks bitterly denouncing a U.S. proposal to build the missile defense system in Poland and the Czech Republic, to defend against a future missile threat from Iran.
As he spoke Friday, a man threw a handful of leaflets into the air, momentarily disrupting the briefing.
"Outstanding. Well done," Putin said to him in Russian. After asking the man for one of the leaflets, which accused the president of ruling like a czar, he added in German: "Now leave us in peace and give us time to answer."
The protester, 20-year-old Konstantin Schuckman, a German-Russian dual citizen, later accused Putin of trampling on democracy, citing recent crackdowns on dissent and on opposition marches.
It was not immediately clear how he reached the briefing at the summit site, which is secured by a seven-mile fence and a heavy police presence. Thousands of journalists and representatives of non-governmental organizations are accredited to attend the summit.
The United States says the missile defense elements that it wants to place in Poland and the Czech Republic are aimed at intercepting possible attacks from Iran and North Korea.
Putin contends that putting the system in Eastern Europe would mean it could be used against Russia's missiles, thereby undermining the balance of power in Europe.
But an Iraqi government spokesman criticized Putin's latest proposal.
"We have nothing to do with the missile shield project. Nobody asked us about this thing. Nobody has the right to speak about or decide an issue concerning Iraq except for the Iraqi people," Iraqi government spokesman Ali al-Dabbagh said.
Putin said last week that Russia would aim its missiles at Europe for the first time since the end of the Cold War if the U.S. plan goes ahead.
With the world's second-largest Shiite Muslim population, secular Azerbaijan has concerns that Iran's Shiite theocracy could spread and some analysts suggested that Iran would be angered by U.S. use of the radar facility.
But Azeri Foreign Minister Elmar Mammadyarov said the proposal "can only bring more stability into the region because it can lead to more predictable actions in the region."
NATO's top diplomat, Secretary General Jaap de Hoop Scheffer, said he thought Azerbaijan "a bit close to the rogue states we are discussing" but welcomed the talks between Bush and Putin at the G-8 summit in northern Germany, which diplomats say marked a thaw in relations after weeks of mounting tension.
In Moscow, Russian lawmakers said the United States has no technical reason to reject the Kremlin proposal for the U.S. to halt construction of the eastern European defense system in exchange for joint use of the Russian-leased radar site in Azerbaijan.
But NATO and Pentagon officials raised doubts about the plan, and Pavel Felgenhauer, an independent expert on Russia's military forces, said the plan is unworkable from Washington's viewpoint.
"Militarily this makes no sense whatsoever, and the Pentagon is not interested at all," Felgenhauer said. Washington's support for building a radar site in the Czech Republic and placing interceptor missiles in Poland, he said, "have never wavered, and there is no way this can substitute."
Moscow made the proposal, he said, to give Washington a face-saving way to abandon its proposed anti-missile system. Washington, he said, hopes to use negotiations to give the Kremlin a chance to quietly shelve its objections to the missile shield.