SEOUL, South Korea - North Korea fired short-range missiles off its western coast in an apparent test Thursday, South Korea's Defense Ministry said, amid a deadlock in international negotiations over Pyongyang's nuclear weapons program.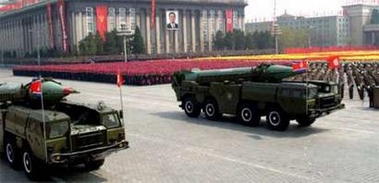 A North Korean missile unit takes part in a military parade to celebrate the 75th anniversary of the founding of the Korean People's Army in Pyongyang in this picture taken April 25, 2007 and released May 30, 2007. [Reuters]
The United States immediately denounced the launch, saying the activity was "not constructive."
A South Korean Defense Ministry official said it had intelligence that North Korea launched the short-range missiles into the sea off its western coast.
"We are trying to confirm how many were fired and what type of missiles they are," the official said, speaking on customary condition of anonymity.
South Korea's Yonhap news agency also cited two unidentified intelligence officials as saying the North fired at least one missile. One of the officials said Pyongyang fired two - one in the morning and one in the afternoon - which is believed to be part of the communist regime's "routine drills," according to Yonhap.
The missiles were either land-to-ship or ship-to-ship models with a range of less than 62 miles, and fell into North Korea's territorial waters, the report said.
The news came two weeks after North Korea test-fired at least one short-range missile into eastern coastal waters, which South Korean and US officials played down as part of the communist country's regular military exercises.
But Thursday's launch drew criticism from US National Security Council spokesman Gordon Johndroe.
"The United States and our allies believe that North Korea should refrain from testing missiles," said Johndroe, accompanying President Bush to the Group of Eight summit in Heiligendamm, Germany.
"North Korea should focus on the denuclearization of the Korean peninsula and fulfill its obligations under the Feb. 13 agreement" in which North Korea pledged to shut down its main nuclear reactor in return for financial and diplomatic incentives.
"This kind of activity is not constructive," Johndroe said.
In recent weeks, North Korea has refused to move on its pledge to shut down its main nuclear reactor over a delay in withdrawing $25 million of its money at a Macau bank that was blacklisted by the US for allegedly helping the North launder and counterfeit money.
The North has made the release of the funds a key condition to disarmament, having boycotted international negotiations for more than a year over the issue, during which it conducted its first nuclear test in October.
In July 2006, North Korea also test-fired a barrage of missiles, including a long-range one believed to be capable of reaching even parts of the US
North Korea is believed to have produced enough plutonium to make as many as a dozen or more nuclear bombs, but experts say it likely does not have a bomb design advanced enough to be placed on a missile.