MOSCOW - President Vladimir Putin called himself the world's only "absolute and pure democrat" in an interview published Monday, and launched scathing attacks on the US and Europe ahead of this week's Group of Eight summit.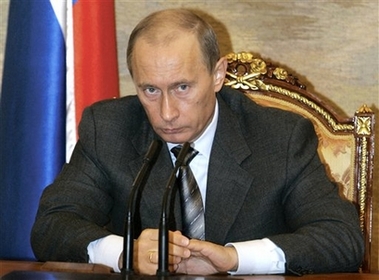 Russian President Vladimir Putin looks on during a Cabinet meeting in the Moscow Kremlin, Monday, June 4, 2007. [AP]


At the same time, the 54-year-old Putin hinted that he may not be ready to leave the public stage after all when his second term expires next year. "I am far from pension age and it would be absurd just to sit at home doing nothing," he told a group of reporters invited to dinner over the weekend.

Despite Russia's agreement last month to tone down the rhetoric, Putin's statements exposed vast gaps between Russia and the West ahead of this week's Group of Eight summit. He called Britain's decision to demand the extradition of the man suspected of killing former KGB agent Alexander Litvinenko with a radioactive poison an act of "stupidity."

The interview touched on much that the rest of the world finds disturbing about Putin's Russia: the backsliding on democracy, the increasing assertion of military power, the general perception of a leader who feels immune to international criticism.

To the many Westerners who say he has rolled back Russia's democratic reforms, Putin responded with the assertion that he is the world's one true champion of democracy.

"I am an absolute and pure democrat," Putin said. "But you know what the misfortune is? Not even a misfortune but a real tragedy? It's that I am alone, there simply aren't others like this in the world."

The transcript noted that Putin laughed when making that comment, suggesting he was joking. A few moments later he added: "After the death of Mahatma Gandhi, there's nobody to talk to."

Sandwiched between his acid criticisms and ironic assertions was a brief criticism of the West.

"We look at what has been created in North America - horror: torture, homelessness, Guantanamo, detention without courts or investigation," he said.

"You see what's going on in Europe: harsh treatment of demonstrators, the use of rubber bullets, tear gas in one capital, the killing of demonstrators in the streets in another," he added, in an apparent reference to the death of an ethnic Russian in the Estonian capital during protests over the removal of a Soviet-era war memorial.

Rather than try to soothe nerves before the G-8 summit in Germany, Putin repeated, and even amplified, recent Kremlin criticism of the United States - including his allegation in February that the United States was engaging in a "hyper-use of power," and Russian officials' denunciation of purported Western attempts to destabilize Russia by funding pro-democracy groups.

The Russian president's comments came despite last month's agreement between Foreign Minister Sergey Lavrov and Secretary of State Condoleezza Rice to tone down the rhetoric on both sides.

Much of the toughest talk from the Kremlin has focused on US plans to build a missile-defense system in Europe, which Washington insists is aimed at preventing attacks by rogue states such as Iran and North Korea rather than Russia.

Putin renewed the verbal offensive in his weekend interview, in chilling comments that evoked the balance-of-terror language of the Cold War.

"We are being told the anti-missile defense system is targeted against something that does not exist. Doesn't it seem funny to you, to say the least?" a clearly irritated Putin said.

"If a part of the strategic nuclear potential of the United States appears in Europe and, in the opinion of our military specialists will threaten us, then we will have to take appropriate steps in response," Putin said. "What kind of steps? We will have to have new targets in Europe."

These could be targeted with "ballistic or cruise missiles or maybe a completely new system."

National Security Adviser Stephen Hadley, asked aboard Air Force One about Putin's comments on the missile shield, said there has been "some escalation in the rhetoric."

"We think that that is not helpful. We would like to have a constructive dialogue with Russia on this issue. We have had it in the past," Hadley said.

Russia's relations with the West also are troubled by its refusal to turn over Andrei Lugovoi, the man whom Britain says it has enough evidence to charge in last year's fatal poisoning of former KGB agent Alexander Litvinenko.

Russia refuses to turn over Lugovoi, saying its constitution forbids extradition of Russian citizens to face prosecution abroad. Putin called Britain's demand "stupidity."

| | | |
| --- | --- | --- |
| 1 | 2 | |