MOSCOW - Russian President Vladimir Putin warned that Moscow could take "retaliatory steps" if Washington proceeds with plans to build a missile defense system for Europe, including possibly aiming nuclear weapons at targets on the continent.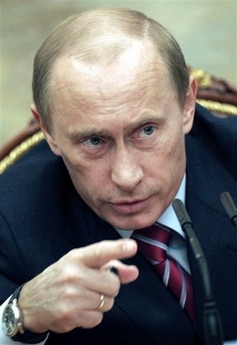 Russian President Vladimir Putin presides a Cabinet meeting in the Moscow Kremlin,in this Monday, March 26, 2007, file photo. [AP]
Speaking to foreign reporters days before he travels to Germany for the annual summit with President Bush and the other Group of Eight leaders, Putin assailed the White House plan to place a radar system in the Czech Republic and interceptor missiles in neighboring Poland. Washington says the system is needed to counter a potential threat from Iran.
In an interview released Monday, Putin suggested that Russia may respond to the threat by aiming its nuclear weapons at Europe.
"If a part of the strategic nuclear potential of the United States appears in Europe and, in the opinion of our military specialists, will threaten us, then we will have to take appropriate steps in response. What kind of steps? We will have to have new targets in Europe," Putin said, according to a transcript released by the Kremlin. These could be targeted with "ballistic or cruise missiles or maybe a completely new system" he said.
On Monday, Iran's top security official called the US plans for the missile defense shield a "joke," saying Tehran's missiles do not have the capability to reach Europe.
"Claims by US officials that installing a missile defense system in Europe is aimed at confronting Iranian missiles and protecting Europe against Iran is the joke of the year," Ali Larijani told the state-run IRNA news agency.
"The range of Iran's missiles doesn't reach Europe at all," IRNA quoted Larijani as saying in Iran's first public reaction to the plans. Larijani is secretary of Iran's Supreme National Security Council, the country's top security decision-making body.
Iran is known to possess a medium-range ballistic missile called the Shahab-3 that has a range of at least 800 miles, capable of striking Israel. In 2005, Iranian officials said they had improved the range of the Shahab-3 to 1,200 miles.
Although Western experts believe Iran is developing the Shahab-4 missile - thought to have a range between 1,200 and 1,900 miles, which would enable it to hit much of Europe - Iran has not confirmed such reports.
Iran initially acknowledged in 1999 it was developing the Shahab-4, but claimed it would be used only as a space launch vehicle for commercial satellites.
Putin told reporters that he hoped US officials would change their minds regarding the missile plan, warning that Moscow was preparing a tit-for-tat response.
"If this doesn't happen, then we disclaim responsibility for our retaliatory steps, because it is not we who are the initiators of the new arms race, which is undoubtedly brewing in Europe," he said.
"The strategic balance in the world is being upset and in order to restore this balance without creating an anti-missile defense on our territory we will be creating a system of countering that anti-missile system, which is what we are doing now," Putin said.
Last week, Russia tested a new ballistic missile capable of carrying multiple nuclear warheads and a new cruise missile. While Western analysts said the system has probably been under development for several years, Putin has described the test as part of Moscow's response to the US anti-missile plan.
Putin also suggested that in the absence of a real threat from Iranian and North Korean missiles, the US plan could be an attempt to spoil Russia's relations with Europe.
Relations between Moscow and Washington have soured in the past year. The two former Cold War foes are at odds over Washington's missile plans, over Russia's conflicts with former Soviet nations - including Ukraine, Georgia and Estonia - and over US concerns of democratic backsliding in Russia.