NEW YORK - US Federal authorities announced Saturday they had broken up a suspected Muslim terrorist cell planning a "chilling" attack to destroy John F. Kennedy International Airport, kill thousands of people and trigger an economic catastrophe by blowing up a jet fuel artery that runs through populous residential neighborhoods.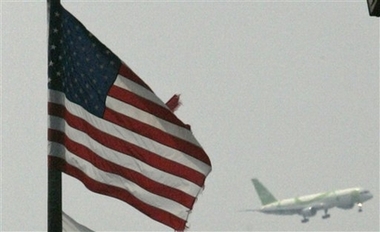 A plane lands Saturday, June 2, 2007 at John F. Kennedy International Airport in the Queens borough of New York. [AP]


Three men, one of them a former member of Guyana's parliament, were arrested and one was being sought in Trinidad as part of a plot that authorities said they had been tracked for more than a year and was foiled in the planning stages.

"The devastation that would be caused had this plot succeeded is just unthinkable," US Attorney Roslynn R. Mauskopf said at a news conference, calling it "one of the most chilling plots imaginable."

In an indictment charging the four men, one of them is quoted as saying the foiled plot would "cause greater destruction than in the Sept. 11 attacks," destroying the airport, killing several thousand people and destroying parts of New York's borough of Queens, where the line runs underground.

One of the suspects, Russell Defreitas, a US citizen native to Guyana and former JFK air cargo employee, said the airport named for the slain president was targeted because it is a symbol that would put "the whole country in mourning."

"It's like you can kill the man twice," said Defreitas, 63, who first hatched his plan more than a decade ago when he worked as a cargo handler for a service company, according to the indictment.

Authorities said the men were motivated by hatred toward the US, Israel and the West. Defreitas was recorded saying he "wanted to do something to get those bastards."

Despite their efforts, the men never obtained any explosives, authorities said.

"Pulling off any bombing of this magnitude would not be easy in today's environment," former US State Department counterterrorism expert Fred Burton said, but added it was difficult to determine without knowing all the facts of the case.

Richard Kuprewicz, a pipeline expert and president of Accufacts Inc., an energy consulting firm that focuses on pipelines and tank farms, said the force of explosion would depend on the amount of fuel under pressure, but it would not travel up and down the line.

"That doesn't mean wackos out there can't do damage and cause a fire, but those explosions and fires are going to be fairly restricted," he said.

Since Defreitas retired from his job at the airport, security has significantly tightened and his knowledge of the operation was severely outdated.

He was arraigned Saturday afternoon in federal court, but did not enter a plea. He was to be held pending a bail hearing scheduled for Wednesday, prosecutors said. A phone number for his lawyer could not be located.

Two other men, Abdul Kadir of Guyana and Kareem Ibrahim of Trinidad, were in custody in Trinidad. A fourth man, Abdel Nur of Guyana, was still being sought in Trinidad.

Authorities said Kadir and Nur were longtime associates of a Trinidadian radical Muslim group, Jamaat al Muslimeen, which launched an unsuccessful rebellion in 1990 that left 24 dead.

Kadir, a former member of Parliament in Guyana, was arrested in Trinidad for attempting to secure money for "terrorist operations," according to a Guyanese police commander who spoke on condition of anonymity.

Kadir left his position in Parliament last year. Muslims make up about 9 percent of the former Dutch and British colony's 770,000 population, mostly from the Sunni sect.

Isha Kadir, the Guyanese suspect's wife, said her husband flew from Guyana to Trinidad on Thursday. She said he was arrested Friday as he was boarding a flight from Trinidad to Venezuela, where he planned to pick up a travel visa to attend an Islamic religious conference in Iran.

"We have no interest in blowing up anything in the US," she said Saturday from the couple's home in Guyana. "We have relatives in the US"

The pipeline, owned by Buckeye Pipeline Co., takes fuel from a facility in Linden, N.J., to the airport. Other lines service LaGuardia Airport and Newark Liberty International Airport.

Buckeye spokesman Roy Haase said the company, which moves petroleum through pipelines in a number of states, had been informed of the threat from the beginning but he declined to detail the company's security measures.

"Given the nature of Buckeye business and the importance of this transportation network, we have an intense and ongoing communications relationship with the Port Authority, the New York City fire and police departments, the federal Department of Homeland Security and the FBI," he said. Buckeye is a subsidiary of Buckeye Partners, L.P. based in Macungie, Pa.

JFK and the area's other airports remained at a heightened state of alert Saturday, the Port Authority of New York and New Jersey said.

Jeanie Mamo, a spokeswoman for the White House, said President Bush had been briefed and updated regularly as the investigation into the plot progressed.

"This case is a good example of international counterterrorism cooperation," Mamo said.

The arrests mark the latest in a series of alleged homegrown terrorism plots targeting high-profile American landmarks.

A year ago, seven men were arrested in what officials called the early stages of a plot to blow up the Sears Tower in Chicago and destroy FBI offices and other buildings.

A month later, authorities broke up a plot to bomb underwater New York City train tunnels to flood lower Manhattan.

And six people were arrested a month ago in an alleged plot to unleash a bloody rampage on Fort Dix in New Jersey.