BAGHDAD - Iraqi and US troops fanned out in a devastated Sunni neighborhood in Baghdad on Friday, residents said, adding they were holed up in their houses under a curfew that was imposed to restore calm after days of internal fighting between insurgent groups.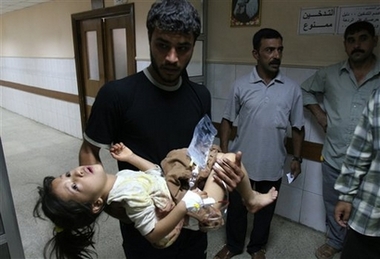 7-year-old Wasnaa Abdullah is carried by a relative after a join Iraqi-US raid, in Imam Alli Hospital, Sadr City, Baghdad, Iraq, Friday, June 1, 2007. [AP]
Northeast of Baghdad, an al-Qaida-linked suicide bomber blew himself up Friday in a house sheltering members of the rival 1920 Revolution Brigades, killing two of the other militants and wounding four in the strife-ridden city of Baqouba, police said.
The developments were the latest in an apparently growing Sunni insurgent power struggle as US and Iraqi officials try to isolate the terror network by turning other militant groups and tribal leaders against it. The tactic has proven relatively successful in the western Anbar province, once considered the heartland of the Sunni insurgency, and Washington and the Iraqi government are trying to replicate it elsewhere.
Lt. Gen. Raymond Odierno, the No. 2 US commander in Iraq, said Thursday that US military officers were talking with Iraqi militants - excluding al-Qaida - about cease-fires and other arrangements to try to stop the violence. He said he thinks 80 percent of Iraqis, including Sunni insurgents and Shiite militants, can reach reconciliation with each other, although most al-Qaida operatives will not.
Abu Ahmed, a 40-year-old Sunni father of four in Baghdad's Amariyah neighborhood, said he was among a group of residents who joined in the clashes with al-Qaida fighters on Wednesday and Thursday - fed up with the gunfire that kept students from final exams and forced people in the neighborhood to huddle indoors.
Ahmed denied being a member of any insurgent groups but said he sympathizes with "honest Iraqi resistance," referring to those opposed to US-led efforts in Iraq but also against the brutal tactics of al-Qaida.
"Al-Qaida fighters and leaders have completely destroyed Amariyah. No one can venture out and all the businesses are closed," he said. "They kill everyone who criticizes them and is against their acts even if they are Sunnis."
"What al-Qaida fighters do is not jihad (holy war), these acts are just criminal ones. Jihad must be against the occupation, Shiite militias and those who cooperate with them," he added. "Those fighters are here only to kill Iraqis and not the Americans. They are like cancer and must be removed from the Iraqi body."