PESHAWAR, Pakistan - A suicide attacker detonated a bomb that ripped through a crowded hotel restaurant in the northwestern city of Peshawar on Tuesday, killing at least 24 people and wounding 25, police said.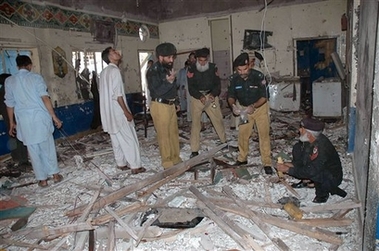 Pakistani security officials examine the site of a suicide bombing inside a hotel in Peshawar, Pakistan on Tuesday, May 15, 2007. A suicide attacker detonated a bomb that ripped through a hotel in the northwestern city of Peshawar on Tuesday, killing at least 24 people and wounding 25, police said. [AP]
The blast deepened instability in Pakistan, still reeling from bloody political riots during the weekend in its commercial capital, Karachi. The attack appeared unrelated to that unrest.
Provincial police chief Sharif Virk said investigators had found the legs of the suspected suicide bomber, with a message taped to one leg that spies for America would meet such a fate.
Peshawar is the capital of North West Frontier Province, a region bordering Afghanistan where pro-Taliban and al-Qaida-linked militants are active.
Virk said below the message attached the leg was written the word "Khurasan" — a Persian word often used in militant videos to describe Afghanistan.
The bomb went off in the ground-floor restaurant of the four-story Marhaba Hotel in Peshawar's old city and left a carnage of corpses and body parts scattered among overturned and broken tables and shattered crockery.
Hassan Khan, a waiter in the restaurant, said he survived only because he was delivering food to guests in their rooms when the blast occurred.
"I lost my senses, and when I came round and ran to see, there were dead bodies and body parts everywhere, even out in the street," said Khan, whose clothes were stained with blood and soot.
He said the Afghan owner of the restaurant, his two sons and two other relatives as well as seven employees were among the dead.
Saeed Khan, a police officer, said that the bomb killed 24 people and wounded 25. The dead included two women and a 5-year-old boy who were having lunch, Khan said.
Police initially said the victims of the blast were Pakistanis. But an intelligence official said the hotel was also popular with Afghans and that it had been crowded with people eating lunch. The official asked that he not be named for security reasons.
Windows of the hotel front were shattered and fans hanging from the roof were twisted. Windows were also shattered in nearby buildings.
Police said they had evacuated the hotel, which lies in a busy market area, cordoned off the scene and opened an investigation.
Tariq Khan, a 35-year-old jeweler with a shop on the same street, said the explosion left him in shock for several minutes.
"Then I saw dust and smoke everywhere," Khan said. "People who were injured were crying and wailing."
Television footage showed the bloodied bodies of victims on stretchers being bundled into waiting ambulances and then carried chaotically through the crowded corridors of nearby hospitals.
Peshawar has suffered periodic bomb attacks in recent years.
In January, a suicide bombing near a Shiite mosque killed 15 people and wounded more than 30, mostly police.
On April 28, a suicide attack on Pakistan's Interior Minister Aftab Khan Sherpao in the nearby town of Charsadda killed 28 people. Sherpao was slightly hurt in the blast, the latest in a series of top Pakistani officials to be targeted by militants.
Tuesday's blast will add to a sense of growing instability in Pakistan after a weekend of violence in the southern city of Karachi that left 41 dead. That unrest was linked a political crisis sparked by President Gen. Pervez Musharraf's suspension of the country's top judge.