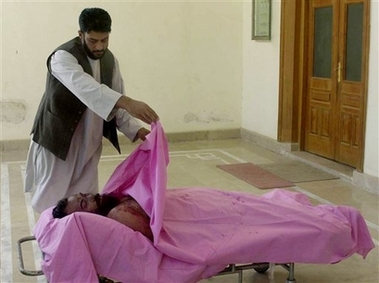 An Afghan man looks at the dead body of Mullah Dadullah, the Taliban's most prominent military commander, in Kandahar, south of Kabul, Afghanistan, May 13, 2007. [AP]


KANDAHAR, Afghanistan - Mullah Dadullah, the Taliban's most prominent military commander, was killed in fighting in southern Afghanistan with Afghan and NATO troops, officials said Sunday.
Dadullah was killed Saturday in the southern province of Helmand, said Said Ansari, the spokesman for Afghanistan's intelligence service. A government official in Kandahar province who spoke on condition of anonymity because he was not authorized to speak to media said he had seen Dadullah's body.
NATO's International Security Assistance Force did not confirm the death.
"It certainly is an issue that we're tracking," said spokesman Maj. John Thomas.
Dadullah would be one of the highest-ranking Taliban leaders to be killed since the fall of the hardline regime following the US-led invasion in 2001, and his death would represent a major victory for the Afghan government and U.S. and NATO troops.
He is considered one of Taliban leader Mullah Omar's top lieutenants in southern Afghanistan.
A second intelligence service official said Dadullah was killed near the Sangin and Nahri Sarraj districts of Helmand province, which have seen heavy fighting involving British and Afghan troops and US Special Forces. The official was not authorized to give his name.