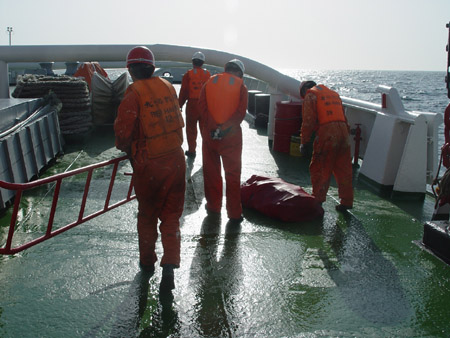 Chinese rescuers inspect remainings of a South Korean vessel "Golden Rose", after it collided with a Chinese ship and sank off the coast of Yantai, east China's Shandong Province, May 12, 2007. Sixteen sailors on the ship were still missing. [Xinhua]


JINAN -- Sixteen sailors on a cargo vessel registered in the Republic of Korea are missing when it sank off east China due to collision with a ship run by a Chinese company, rescuers said on Saturday.
The ROK vessel, "Golden Rose", sank on the sea near Yantai, east China's Shandong Province after it collided around 3 a.m. Saturday with Saint Vincent-registered "Jinsheng", a ship run by Shandong Lufeng Shipping Company Ltd.
Chinese rescuers have found two life rafts and some wrecked articles confirmed to be left by the "Golden Rose". They believed the vessel had sunk with its 16 sailors aboard missing.
Rescue vessels and helicopters from Shandong maritime bureaus and Dalian are still searching the missing at the site.
The "Golden Rose" loaded with 59 million tons of steel, was heading from Liaoning to ROK. The container ship "Jinsheng was heading from Yantai to Dalian.
The cause of the collision is still being investigated.