BAGHDAD - US and Iraqi troops searched house-to-house and combed fields with their bare hands Saturday after American troops and their Iraqi interpreter came under attack in the notorious "triangle of death" south of Baghdad, leaving five dead and three missing.

The military said the patrol was struck in a pre-dawn explosion near Mahmoudiya, about 20 miles south of Baghdad -- an al-Qaida area where two US soldiers were found massacred after disappearing at a checkpoint nearly a year ago.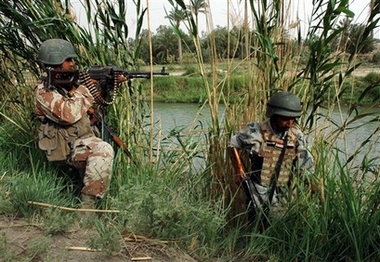 Iraqi soldiers take defensive position while on the joint search mission with the US troops near Youssifiyah, 20 kilometers (12 miles) south of Baghdad, Iraq, Saturday, May 12, 2007. [AP]


A nearby unit heard the blast and the search was launched after communication could not be established with the patrol, the military said. Shortly after the blast, a drone observed two burning vehicles.
An emergency response unit arrived at the scene and found five members of the team dead and three others missing.
Checkpoints were established throughout the area, while helicopters and jets buzzed overhead. AP Television News footage showed Iraqi soldiers picking through cattails and other weeds as they searched fields and canals for clues.
Lt. Col. Christopher Garver, a US military spokesman, said the search would continue throughout the night.
"A lot of our vehicles have thermal capabilities, which sometimes work better at night than they do during the day," he said.
The military refused to specify whether the Iraqi interpreter was among those killed or missing and would not give more details about where the bodies were found.
An Iraqi army officer who was familiar with the search said he saw five badly burned bodies inside a Humvee at the site, suggesting the remains may not have been recognizable. The officer spoke on condition of anonymity because he was not authorized to disclose the information.
He also said joint US-Iraqi forces had sealed off the area and were conducting house-to-house searches, rounding up dozens of suspects. The military declined to comment on detentions but said troops were looking for suspects.
The Iraqi officer said US troops singled out seven suspects out of as many as 50, including a wounded man who was hiding in a house and confessed to participating in the attack. He said most of the houses searched near the attack contained only women and children because the men had fled, fearing arrest.
"I was in my cucumber field when I heard a big explosion followed by shootings. I ran toward my house because I was afraid that I would be arrested if spotted in the field," Mizaal Abdullah, a 37-year-old farmer who was in the custody of the Iraqi army, said by telephone. "This is the third time that I have been arrested. Each time, the real attackers flee the area and innocent people like me get arrested."
The attack occurred at 4:44 a.m. about 12 miles west of Mahmoudiya, a town of about 65,000 in a Sunni area dubbed the "triangle of death" for the frequent attacks against Shiite civilians and US and Iraqi forces.
On June 16, 2006, two American soldiers -- Pfc. Kristian Menchaca of Houston and Pfc. Thomas Tucker of Madras, Ore. -- went missing after their Humvee was ambushed at a checkpoint near Youssifiyah, north of Mahmoudiya.
Their bodies were found days later, tied together with a bomb between one of the victim's legs. But the remains were not recovered until the next morning, after an Iraqi civilian warned that bombs had been planted in the area.
A third soldier, David J. Babineau, 25, of Springfield, Massachusetts, was found dead at the scene of the attack.
Five US soldiers also have been charged in the rape of a 14-year-old Mahmoudiya girl and the killing of her and her entire family, and three have pleaded guilty in the March 12, 2006, attack, which was initially blamed on insurgents.
Also Saturday, the military announced the death of an American soldier from a bomb attack Friday near Iskandariyah, 30 miles south of Baghdad.
At least 30 Iraqis were reported killed or found dead elsewhere in Iraq, including a Sunni physician shot to death on his way home from work in the northern city of Mosul.
Seventeen bullet-riddled bodies showing signs of torture -- apparent victims of so-called sectarian death squads usually led by Shiite militias -- also turned up on the streets in Baghdad.
All but two were found on the predominantly Sunni western side of the Tigris River that divides the capital where sectarian violence appears to be on the rise.
More than 3,380 members of the US military have died since the Iraq war started in March 2003, according to an Associated Press count. But few have been kidnapped, due largely to strict military procedures for those on patrol or at checkpoints.
US troops in Iraq travel in groups of armored vehicles, usually Humvees, and procedures are in place to keep track so no one is left behind.
The last US soldier known to have been captured was Ahmed Qusai al-Taayie, whose name is also spelled Ahmed Kousay Altaie, an Iraqi-born reserve soldier from Ann Arbor, Mich., who was abducted while visiting his Iraqi wife on Oct. 23 in Baghdad.
Sgt. Keith M. Maupin of Batavia, Ohio, was taken on April 9, 2004, after insurgents ambushed a fuel convoy. Two months later, a tape on Al-Jazeera purported to show a captive US soldier being shot, but the Army ruled it was inconclusive proof of Maupin's death.
Both are still listed as missing.
Capt. Michael Speicher, a Navy pilot, also has been missing since the 1991 Persian Gulf War.