BAGHDAD - Roadside bombs killed eight American soldiers in separate attacks Sunday in Diyala province and Baghdad, and a car bomb claimed 30 more lives in a wholesale food market in a part of the Iraqi capital where sectarian tensions are on the rise.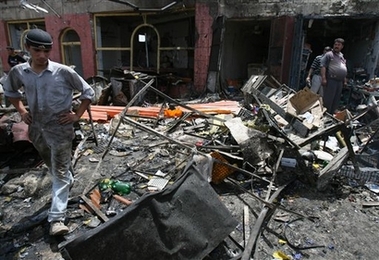 Residents gather at the scene of a car bomb blast in Baghdad, Iraq, Sunday, May 6, 2007. A car bomber ripped through a commercial district in western Baghdad on Sunday, killing at least 27 people and wounding dozens, in one of the deadliest attacks in the capital in recent days. [AP]
In all, at least 95 Iraqis were killed or found dead nationwide Sunday, police reported. They included 12 policemen in Samarra, among them the city's police chief, who died when Sunni insurgents launched a suicide car bombing and other attacks on police headquarters.
The deadliest attack against U.S. forces occurred in Diyala, where six U.S. soldiers and a European journalist were killed when a massive bomb destroyed their vehicle, the U.S. military said. Two U.S. soldiers were wounded, the military said.
Two other American soldiers died Sunday in separate bombings in Baghdad.
The military Sunday also reported three other deaths ¡ª two Marines in a blast Saturday in Anbar province and a soldier who died Sunday in a non-combat incident in northern Iraq.
Those deaths raised to at least 3,373 the number of U.S. military members who have died since the Iraq war started in March 2003, according to an Associated Press count.
The market bombing occurred about noon in the Baiyaa district of western Baghdad, shattering vehicles, ripping roofs off nearby buildings and collapsing storefronts. Police said about 80 people were injured in addition to the 30 dead.
Following the horrific blast, blood pooled on the dirt streets. Hospital officials said two pickup trucks filled with body parts were brought to the morgue.
"I was waiting near a shop to lift some boxes, when I saw the owner of the shop collapse," said Sattar Hussein, 22, who works in the market. "I helped him inside the shop, but he was already dead. The next thing I felt was pain in my left shoulder and some people rushing me to the hospital."
Ali Hamid, 25, who owns a shop in the market, said he was selling soft drinks when the blast knocked him unconscious.
"The next thing I remember is some people putting me in a pickup with two dead bodies and rushing me to the hospital," he said. He called the attack "a terrorist act aimed at creating more sectarian tension and strife."
No group claimed responsibility for the attack, which followed allegations by Sunni politicians that Shiite militias have resumed their campaign to expel Sunnis from Baiyaa.
Most of the shops in the market were believed owned by Shiites.
That raised speculation that the bombing was carried out by Sunni hard-liners in reprisal for the alleged expulsions, which were believed to have slowed across the capital since the start of the Baghdad security crackdown Feb. 14.
The attacks in Samarra, a Sunni city 60 miles north of Baghdad, began when a suicide car bomber struck the police headquarters. Following the blast, dozens of insurgents ¡ª some wearing masks and wielding video cameras ¡ª opened fire on the building and at least one police checkpoint, witnesses said.
U.S. paratroopers from the 82nd Airborne Division came under small arms and rocket-propelled grenade fire when they rushed to the scene, the U.S. military said. Two Americans were wounded and a vehicle was damaged.
The police chief, Col. Jalil Nahi Hassoun, and 11 other policemen were killed, officials said.
Samarra was the scene of the Feb. 22, 2006, bombing that destroyed a major Shiite shrine and triggered the wave of Sunni-Shiite reprisal attacks that has plunged this country into civil conflict. U.S. and Iraqi officials blame that bombing on al-Qaida, which has been active in the city for years.
As the violence raged, House Minority Leader John Boehner (news, bio, voting record), R-Ohio, warned on "Fox News Sunday" that Republican support could waver if President Bush's Iraq war policy does not succeed by the fall.
"By the time we get to September or October, members are going to want to know how well this is working, and if it isn't, what's Plan B?" Boehner said.
But in Baghdad, an American general warned of more casualties to come as the U.S. steps up its campaign to restore stability to Baghdad and surrounding areas.
"In the next 90 days we're going to see increased American casualties because we're taking the fight to the enemy," Maj. Gen. Rick Lynch, commander of U.S. troops south of Baghdad, told reporters.
Lynch predicted that U.S. operations would produce a "decisive effect on enemy formations" by September, but the task of building stable Iraqi political institutions and security capabilities will take much longer.
However, Iraq's religiously and ethnically based political parties show little sign that they are narrowing their differences.
On Sunday, a top leader of the biggest Sunni bloc in parliament complained bitterly that Sunni Cabinet members are being given no real powers in the Shiite-dominated government.
Adnan al-Dulaimi also charged that the 11-week-old Baghdad security crackdown was victimizing Sunnis in the city.
"Our participation in this so-called national unity government is weak and marginalized and our ministers have no authority to serve Iraq or its people," al-Dulaimi told reporters.
He also complained that Shiite militias and death squads have resumed kidnapping and killing Sunnis.
"We wish the government every success with the security plan but not at the expense of the Sunnis," al-Dulaimi said. "We call on the government to strike with an iron fist the death squads, the militias and the military commanders who attack our Sunni areas under the cover of the security plan."
Last week, Iraq's Arab neighbors made clear during a regional conference in the Egyptian resort of Sharm El-Sheik that the Shiite-dominated government must reach out to the Sunnis if it expects substantial economic help to rebuild the country.
The chief spokesman for Prime Minister Nouri al-Maliki said the government was aware of renewed sectarian cleansing but blamed it on criminal gangs that want to "create the impression" of a city torn by religious strife.
"These are among the challenges the Iraqi government faces," the spokesman, Ali al-Dabbagh, told reporters.
U.S. officials have insisted that the security crackdown is not directed at any religious or ethnic group.
Maj. Gen. William Caldwell said U.S. and Iraqi forces raided the Shiite district of Sadr City early Sunday, uncovering a weapons cache, a torture room and killing at least eight militants.
"Intelligence reports indicate that the secret cell had ties to a kidnapping network that conducts attacks within Iraq as well as interactions with rogue elements throughout Iraq and into Iran," he said.