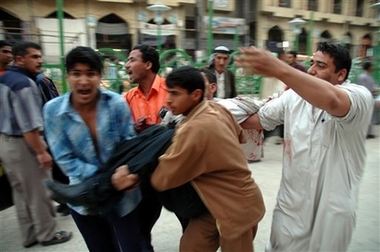 An injured man is carried away following an explosion in a crowded commercial area near the Imam Hussein shrine in Karbala, 80 kilometers (50 miles) south of Baghdad, Saturday, April 28, 2007. [AP]


BAGHDAD - A car bomb exploded Saturday in the Shiite holy city of Karbala as the streets were packed with people heading for evening prayers, killing at least 58 and wounding scores near some of the country's most sacred shrines. Separately, the US military announced the deaths of nine American troops, including three killed Saturday in a single roadside bombing outside Baghdad.

With black smoke clogging the skies above Karbala, angry crowds hurled stones at police and later stormed the provincial governor's house, accusing authorities of failing to protect them from the unrelenting bombings usually blamed on Sunni insurgents. It was the second car bomb to strike the city's central area in two weeks.

Near the blast site, survivors frantically searched for missing relatives. Iraqi television showed one man carrying the charred body of a small girl above his head as he ran down the street while ambulances rushed to retrieve the wounded and firefighters sprayed water at fires in the wreckage, leaving pools of bloody water.

The Americans killed in Iraq included five who died in fighting Friday in Anbar province, three killed when a roadside bomb struck their patrol southeast of Baghdad and one killed in a separate roadside bombing south of the capital.

The deaths raised to 99 the number of members of the US military who have died this month and at least 3,346 who have died since the Iraq war started in March 2003, according to an Associated Press count.

The blast took place about 7 p.m. in a crowded commercial area near the shrines of Imam Abbas and Imam Hussein, major Shiite saints.

Security officials said the car packed with explosives was parked near a cement barrier intended to keep traffic away from the shrines, which draw thousands of Shiite pilgrims from Iran and other countries.

That suggested the attack, which occurred two weeks after 47 people were killed and 224 were wounded in a car bombing in the same area on April 14, was aimed at killing as many Shiite worshippers as possible.

Salim Kazim, the head of the health department in Karbala, 50 miles south of Baghdad, said 58 people were killed and 168 wounded. The figures were confirmed by Abdul-Al al-Yassiri, the head of Karbala's provincial council.

"I did not expect this explosion because I thought the place was well protected by the police," said Qassim Hassan, a clothing merchant who was injured by the blast. "I demand a trial for the people in charge of the security in Karbala."

Hassan, who spoke to a reporter from his hospital bed, said his brother and a cousin were still missing.

"I regret that I voted for those traitors who only care about their posts, not the people who voted for them," he said.

The US military has warned that such bombings were intended to provoke retaliatory violence by Shiite militias, whose members have largely complied with political pressure to avoid confrontations with Americans during the US troop buildup.

The radical Shiite cleric Muqtada al-Sadr launched a strong attack earlier Saturday on President Bush, calling him the "greatest evil" for refusing to withdraw American troops from Iraq.

Al-Sadr's statement was read during a parliament session by his cousin, Liqaa al-Yassin, after Congress ordered US troops to begin leaving Iraq by Oct. 1. Bush pledged to veto the measure and neither the House nor the Senate had enough votes to override him.

"Here are the Democrats calling you to withdraw or even set a timetable and you are not responding," al-Sadr's statement said. "It is not only them who are calling for this but also Republicans, to whom you belong."

"If you are ignoring your friends and partners, then it is no wonder that you ignore the international and Iraqi points of view," he added.

Al-Sadr led two armed uprisings against US forces in 2004, and his Mahdi militia is believed responsible for much of Iraq's sectarian killing. The US military says he has fled to Iran, although his followers insist he is hiding in Iraq. Abdul-Al al-Yassiri, the head of the Karbala provincial council, said local authorities had raised fears that militants fleeing the Baghdad security crackdown were infiltrating their area.

"We have contacted the interior minister and asked them to supply us with equipment that can detect explosives," he said.

Ali Mohammed, 31, who sells prayer beads in the area, said he heard the blast and felt himself hurled into the air.

"The next thing I knew I opened my eyes in the hospital with my legs and chest burned," he said. "This is a disaster. What is the guilt of the children and women killed today by this terrorist attack?"

Crowds stormed the provincial government offices and the governor's house, burning part of it along with three cars and scuffling with guards. Security forces detained several armed protesters, said Ghalib al-Daami, a provincial council member.

Saturday's bombing was the deadliest attack in Iraq since April 18, when 127 people were killed in a car bombing near the Sadriyah market in Baghdad - one of four bombings that killed a total of 183 people in the bloodiest day since a US-Iraq security operation began in the capital more than 10 weeks ago.

In all, at least 119 people were killed or found dead, including the bodies of 38 people killed execution-style ¡ª apparent victims of the so-called sectarian death squads mostly run by Shiite militias.

In Baghdad, a mortar attack killed two people and wounded seven in the Sunni neighborhood of Azamiyah, where the US military recently announced it was building a three-mile long, 12-foot high concrete wall despite protests from residents and Sunni politicians that they were being isolated.

The US military also said Saturday that a suicide truck bomber attacked the home of a city police chief the day before in the Sunni insurgent stronghold of Anbar province, killing nine Iraqi security forces and six civilians. Police chief Hamid Ibrahim al-Numrawi and his family escaped injury after Iraqi forces opened fire on the truck before it reached the concrete barrier outside the home in Hit, 85 miles west of Baghdad.