At least 82 people were killed Tuesday and hundreds injured in a 6.3-magnitude earthquake that rocked Indonesia's Sumatra island, officials said.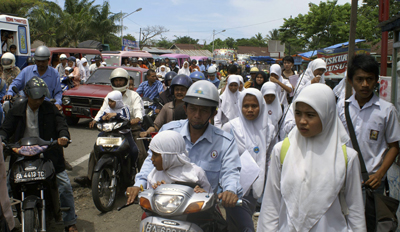 Indonesians flee to the streets after strong earthquakes hit the city of Padang in West Sumatra March 6, 2007. Two strong earthquakes hit Indonesia's Sumatra island on Tuesday, killing at least 82 people, flattening buildings and sending emergency operations into full swing to deal with the injured and displaced. [Reuters]


"The toll won't stop rising because the quake happened in a relatively populated region," said Damien Personnaz, a spokesman for children's agency UNICEF, who gave the figure of 82 dead.

Two UNICEF teams are in Sumatra monitoring the situation.

Hundreds of others were injured, Rosmini Savitri, an official in the disaster zone, told AFP by phone.

"The number of people injured has become 257," she said.

The quake hit at 10:49 am (0349 GMT), the US Geological Survey said, about 50 kilometres (30 miles) northeast of the West Sumatra capital Padang. Tanah Datar, Solok and Padang were among the worst hit areas in Sumatra.

It appeared to have been followed by an aftershock almost as strong.

Hospitals in Solok and other areas on Sumatra were already working at full capacity and unable to treat more people, rescue coordinator Suryadi told AFP by telephone from the disaster zone.

A spokesman for President Susilo Bambang Yudhoyono had earlier said at least 70 were killed and scores injured.

He said the president may go to the disaster site and had ordered police, military, local authorities and government ministers to coordinate to do all they could to bring relief to the stricken areas.

Many people were trapped in collapsed buildings and there was no official information about the situation at the quake's epicentre because phone lines were down, Utjin Sudiana, West Sumatra's police chief, told AFP.

"The epicentre is in Batusangkar but communication is disconnected from there so we don't know what the damage is," he said.

Solok mayor Samsurahim said there was widespread damage.

"Several houses have collapsed. There are hundreds of victims," he told ElShinta radio, adding that a school had burnt to the ground after the quake.

Indonesia, an archipelago of some 17,000 islands, sits on the so-called Pacific Ring of Fire, where continental plates meet -- and where earthquakes are a regular and often deadly occurrence.

Indonesia was the nation worst hit by the earthquake-triggered Indian Ocean tsunami in December 2004, which killed some 168,000 people in Aceh province on the northern tip of Sumatra.